Idris Elba to DJ and Open for Madonna in Berlin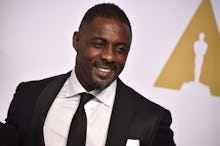 British actor Idris Elba is a man of many talents. The award-winning actor, who's widely known for his role as Stringer Bell on HBO's The Wire, is also, apparently, a maverick behind the wheel and a renowned DJ to boot. To add to his list of accomplishments, Elba will soon take his musical talents to Berlin to join American superstar Madonna on her Rebel Heart tour.
Elba confirmed his supporting role on Tuesday via Twitter.
Most recently, Elba played Commandant in the Netflix original film Beasts of No Nation. The British actor has also been championed around the internet for the role of James Bond. 
There's been no shortage of powerhouse personalities joining Madonna on stage during her current tour. Recent supporting acts on the road with the Queen of Pop include comedian Amy Schumer, DJ Diplo, DJ Lunice, Irish rapper Rejjie Snow and DJ Michael Diamond. 
Madonna's exhaustive world tour includes numerous concert dates through March 2016, and so far, the "Material Girl" has already made a killing at the box office. According to Music News & Facts, after just 24 shows, 300,000 attendees had turned out, helping Madonna to pull in $46 million.
To hear some of Elba's musical stylings, head to the artist's SoundCloud page. Here's live footage of the multi-talented performer on stage at Low End Theory in Los Angeles:
Correction: Nov. 10, 2015