This Hilarious Video Proves Just How Empowering Girl Power Ads Are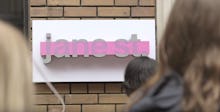 Whether they're encouraging women to play #LikeAGirl, embrace their "real beauty," or to #ShineStrong, many brands have employed messages of empowerment targeted to female consumers. The trend has been dubbed "femvertising," and while many have applauded these efforts, others are more skeptical — including the Toronto ad agency John St., which recently parodied the entire movement.
The sell: The industry's transition from "exploiting [women's] insecurities" to "empowering their incredible abilities," created a "void in the emerging market," planning director Megan Towers says in the parody video. That's why John St. developed Jane St., a new division "devoted solely to empowering women through advertising."
Jane St.'s innovative approach requires advertisers to identify women's "deepest insecurities," which is the first step of what they have dubbed the "C-LITT model" — or "Core Lady Insecurity to Target."
"It really helps us hone in on the most sensitive area for a message of empowerment," one account director explains.
"A lot of marketers think in order for their brand to really benefit from a female empowerment message that they somehow have to tie back to females or even equality," Niall Kelly, confidence director (and actually John St.'s creative director) of the agency, says in the video. "That's actually not the case. We've seen the Jane St. model work for a number of business segments. We've even empowered women with yogurt."
And to stay ahead of the game, the company makes sure to "identify tomorrow's insecurities, today," as Towers puts it, which includes probing young girls about their perceived flaws.
"There's literally no limit to the amount of empowerment we can empower through the power of our brands," the confidence director concludes.
Though playful, the video echoes a message plenty of critics have previously voiced — namely that no matter the packaging, these advertisers are still attempting to sell women commodities ultimately based on sexist, gendered notions of beauty.
To be sure, companies are profiting off of this so-called empowerment: Dove's global sales, for example, have risen to above $2 billion in the last decade — roughly the same amount of time they have perpetuated their "Real Beauty" campaign, which launched in 2004. And, beyond a clear profit-based motivation, the authenticity of Dove's message can easily be called into question given that its parent company Unilever, is the same company whose advertising approach includes featuring dismembered female body parts and hypersexualized women.
As Nosheen Iqbal summarized in an October Guardian column, "the advertising industry, once bent on selling us sex, is now selling us its disgust with sexism." These campaigns, she added, "ignore any boring analysis of gender inequality in favour of feeling good."
h/t Bitch Media