The 'Star Wars' Fan Whose Dying Wish to See 'The Force Awakens' Was Granted Just Died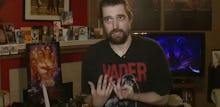 Daniel Fleetwood, the 32-year-old Star Wars fan whose dying wish to see Star Wars: The Force Awakens was granted thanks to the #ForceForDaniel social media campaign, succumbed Tuesday morning to his spindle cell sarcoma, a rare connective tissue cancer, at his home in Spring, Texas.
His wife, Ashley Fleetwood, made the announcement via a Facebook post with a photo of the couple.
In seven hours, the post gathered over 9,000 shares and 17,000 likes. Tributes to the young fan poured in on social media. 
"May angels lead you in Daniel Fleetwood," one commenter wrote on his Facebook wall. "Praying for his wife Ashley Fleetwood and his family. #ForceForDaniel." 
Others paid their respects on Twitter.
Ashley Fleetwood documented her husband's death on Facebook, and four hours prior to the announcement he had died, she posted this: 
Daniel Fleetwood caught the world's attention when he asked Walt Disney Studios to let him see the latest installment of the Star Wars franchise, the Force Awakens, before its scheduled Dec. 18 release. Daniel's oncologist predicted he would die in September, hence his urgency.
"Judging by how progressive the disease has gotten in the past two months, I really don't think that I'll be able to make it [to Dec. 18]," Daniel Fleetwood told KPRC on Oct. 29. 
The social media campaign was propelled to new heights when central Star Wars stars figures like Mark Hamill and John Boyega, started participating, using #ForceForDaniel, encouraging the studio to grant Daniel's wish.
On Wednesday, the film's director, J.J. Abrams, called the couple to let them know his wish had been granted. Walt Disney Studios and Lucasfilms arranged for a screening at his home. 
Fleetwood's is a sad story. But it's one with a fantastical ending, sent from a galaxy far, far away. 
Get the news everyone's talking about delivered straight to your inbox every morning by signing up for MicCheck Daily.