The #SareeNotSorry Movement Is Taking a Beautiful Stand Against Xenophobia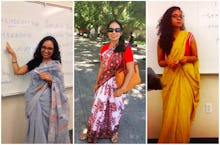 Earlier this month, 50 women stormed a mall in flashmob fashion in Delhi, India — and it was all in the name of celebrating their Indian heritage. 
"We wanted to revive the culture of draping sari in a fun way so that the weaves get the kind of attention they deserve," Vandana Gupta told the Hindustan Times. 
Gupta is the co-founder of Devditi, a group that aims to empower Indian women, which organized the dance routine set to a number of Bollywood hits (and subsequently made headlines). The video also made its way to social media, shared with a number of pro-saree hashtags on Twitter. Among them: #sareenotsorry. 
The woman behind the recent #sareenotsorry movement is Tanya Rawal, an adjunct professor at the University of California at Riverside. Since early September, Rawal's been posting images of herself wearing sarees (also spelled "saris") on Instagram using the sassy hashtag.
Initially, #sareenotsorry was a way for Rawal's family to see what was going on in her life. She had just come back from a vacation in India with a bunch of vintage sarees from her mother and other family members. 
But over the last few weeks, #sareenotsorry has veered toward the political, as a movement to embrace the traditional Indian garment gains steam to fight off stigma and help Indian-American women express what it means to be Indian in today's world.
The lingering sting of xenophobia: Rawal explained this political turn in a recent essay for Medium, "Saree, Not Sorry: My Dreams Are In Hinglish." The point, she states, is embracing one's own cultural history, particularly in the United States. "It's time we stop apologizing for our skin color, language and culture," she writes. 
With every one of her posts, Rawal, a Louisiana native, wants to celebrate Indian culture, represented by the saree, in part as a rebuttal to rising xenophobic discourse in the United States. 
"The anti-immigration debates are not simply about 'illegal immigration," Rawal wrote on Medium. "The immigrant question has a long history of using labels of legality as a way to create a white United States." Those legal labels include the Immigration Act of 1917, which prohibited "undesirables" from entering the U.S., and a 1923 Supreme Court case that deemed Indians "Caucasian but not 'white persons' in the popular meaning of the term,'" Rawal noted.
Xenophobia is a hot topic with the U.S.'s impending presidential election, and it's particularly close to home for Rawal, who teaches at a university close to the American-Mexican border. 
To refute damaging, long-held ideologies, Rawal looked for the most apparent indicator of her nationality: clothing, specifically the saree.
Finding identity through fashion: "I wanted it to be about using fashion to speak back to anti-immigration discourse of the country," Rawal told Mic. "And living in southern California, we're so close to the border. We have a lot of first-generation students, and at this point being able to be who you are is a privilege." 
So for her gender theory class, it was important for her to talk about intersectionality and what it means to be a brown person. Rawal said she wrote the Medium article primarily for her class, but reactions to the essay and the #sareenotsorry tag revealed just how relatable the judgment of traditional, non-Western garb is for so many Americans.
The hashtag quickly went viral, as women across the country posted proud pictures of themselves on Instagram and Twitter with the #sareenotsorry hashtag while wearing sarees at weddings, Diwali celebrations and elsewhere. Photos of women wearing their sarees are especially powerful, Rawal said, because clothing can be crucial for negotiating one's own cultural identity. 
"Brown people get left out of the racialized discourse in this country, so it's now time that we have to figure out what it means to be brown," Rawal told Mic. "We need to figure out what we are without having to erase ourselves."
Taking ownership of the saree is especially important in places like the U.S., Rawal said, because "foreign" cultures can be so easily misunderstood and even offensively appropriated by others. Recently, the online retailer ASOS landed in hot water after selling bindis, which it advertised on the foreheads of white women. This type of questionable cultural appropriation is familiar to Rawal, who has noticed the evolution of Indian-influenced designs for years now — and offers a simple solution.
"I really think it's time for Indians to embrace [their culture] and celebrate what they have and not have it so easily appropriated," Rawal said. "It would be like saying 'This is mine and if anyone is going to make money off of it, it's going to be me and not the owners of Anthropologie.'"
What that embrace looks like will look different for each Indian-American woman.
"I actually grew up with two closets: my Indian closet and my American closet," Rawal said. But her mother, who's encouraged the movement, reminded Rawal that she's never been one to completely shy away from her own culture, and standing out for good reason.
"My mom was really, really supportive," she said. "She reminded me that I even wore my saree to my winter formal in high school and I've been mixing Indian jewelry into my wardrobe for as long as I can remember. For me, it's kind of normal to do it in a way."
The power of the saree: The significance of the saree and everything it stands for makes it the perfect symbol for Rawal's movement of acceptance.
For many, sarees symbolize feminine strength by being equal parts practical and beautiful. 
"The saree is such a useful piece of clothing," Rawal said. "With the fabric that's over the shoulder, I've seen women carry a baby with that piece. I've seen women carry their food with it. It's this really functional piece of fabric you can wear that speaks to how women are. We can do so many things and still be a woman at the same time. It's miraculous."
The different fabrics can also have meaning. According to Rawal, cotton sarees are known to have a history of "aligning with the independence movement in India," worn on India's Independence Day to commemorate the end of British rule, and in honor of Mahatma Gandhi. 
And so the movement to promote sarees in the modern world is growing, with young women in India reclaiming them themselves. The campaign #100sareepact strives to bring sarees back into acceptable workplace attire while challenging women to wear 100 sarees by December. And the organizers of the flashmob in October already (spoiler alert) have another one scheduled for a hotel next month. 
"I chose fashion because it's the first thing you see," Rawal said. "With fashion, especially for someone who is a minority, I'm going to be looked at and stared at anyway, so I want you to see something that's going to make you think twice about this fabric that stands between me and you."