Here's What to Expect in the Fourth GOP Debate on Fox Business Network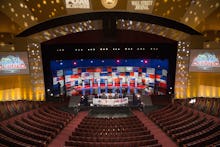 Less than two weeks after a primary debate in Boulder, Colorado, that left the former presumptive nominee licking his wounds and political media nursing a black eye, the smallest assemblage of Republican presidential candidates to date is preparing for a prime-time debate that could prove decisive in the battle for the party's nomination.
For the first time, the record-shattering field of Republican candidates has been winnowed down to a mere eight spots on the prime-time stage. Tuesday's debate in Milwaukee, hosted by Fox Business Network and the Wall Street Journal, has jettisoned New Jersey Gov. Chris Christie and former Arkansas Gov. Mike Huckabee to the so-called "undercard" debate, and booted South Carolina Sen. Lindsey Graham and former New York Gov. George Pataki from the proceedings entirely.
As the candidates — and moderators — face increased scrutiny in the narrowing window before the primary process begins in earnest, the debate hosts have pledged to "go in-depth on issues impacting our economy, including jobs, taxes and international and domestic policy." But with the next primary debate buried in the holiday shopping season more than a month away, the impressions candidates make — or fail to make — Tuesday night may determine the fate of their entire campaigns.
Based on the previous three debates, here's what you can expect to see in Milwaukee:
1. More heat aimed at — and coming from — Sen. Marco Rubio
After the Florida senator stole the show in Boulder on Oct. 28, adeptly countering a maladroit attempt by fellow Floridian and former Gov. Jeb Bush to criticize his voting record in the Senate, many debate watchers considered Rubio as the night's winner. 
"He got a fastball thrown right at his head, and he knocked it out of the park," Terry Sullivan, Rubio's campaign manager, told Mic after that debate. "It's checking another box: Can he take a punch? How does he handle it? And he took some punches, and returned them just as good as he got them."
But Rubio's successful performance in Boulder may mean open season in Milwaukee. Attention is a finite resource, after all, and every pair of eyeballs trained on the charismatic young senator means one fewer pair focused on the other seven candidates. In addition to billionaire gadfly Donald Trump, who bestowed Rubio with the nickname "Lightweight Choker" on Tuesday morning, expect a second attempt at a takedown by Bush, as well as a targeted hit by fellow first-termer Sen. Ted Cruz of Texas.
Although the two are running in different lanes in the presidential contest — one as an establishment favorite, the other as a hard-right agitator — Bush and Cruz are both likely viewing Rubio as a threat to their candidacies. Cruz, locked in a third-place tie with Rubio among Republican voters nationally, has even taken to slurring Rubio as a "moderate." If the enemy of your enemy is your friend, a tag-team assault on Rubio from Bush and Cruz isn't out of the question.
2. Dr. Ben Carson in the crosshairs
Carson's improbable rise to the front of the Republican presidential field hasn't come without a cost. 
A newcomer to the national political arena who was once able to more or less freely make jokes about Auschwitz and declare that prison rape is proof homosexuality is a choice, Carson has faced increased scrutiny from the press over the accuracy of incidents described in his best-selling memoir Gifted Hands: The Ben Carson Story. (It is perhaps the first time in U.S. history a presidential candidate has had to defend the accuracy of a story in which he attempts to murder a family member with a knife.)
Despite — or perhaps because of — questions about the accuracy of his biography, Carson has eclipsed Trump as the Republican front-runner in several national polls. Carson's response to the controversy — he insisted it's not his responsibility to "corroborate everything I have ever talked about in my life" — may work well with voters, but his fellow candidates may not be so forgiving of the upstart candidate's equivocations. Trump has made a habit of pretending he's friends with every candidate before stabbing them in the back during a debate, and it may be Carson's turn Tuesday.
3. An attempt at a comeback by Bush
The former Florida governor's three previous debate performances have gone from forgettable in Cleveland to mediocre in Simi Valley, California, to cataclysmic in Boulder. That last performance, which left Bush donors expressing reservations about their former favorite and many politicos pondering the beginning of the end of the Bush political dynasty, is the shadow looming over the fourth debate.
Bush, who testily told Mic after the Boulder debate "it's not a performance — I'm running for president of the United States," has taken to touting the advice he has received from a freshly hired media coach. 
"He's telling me to be me," Bush told ABC News last week. "He's telling me to own what I believe." 
This might spell a new era of chutzpah coming from Bush's end of the debate dais, but don't bet the farm on it. Bush has never proved himself comfortable with "zingers" during debate, and any attempt at forced confrontation with one of his opponents risks blowing up in his face in a grim replay of his disaster in Boulder. To paraphrase Morpheus in The Matrix, Bush needs to stop trying to be confident and be confident.
4. Moderators sticking to the subject
Bush may have walked away from the CNBC debate with a bruised ego, but the biggest casualty of the Boulder bloodbath was the business network itself. The debate's moderators, CNBC hosts Carl Quintanilla, Becky Quick and John Harwood, were alternately decried as useless pushovers or Democratic partisan hacks with axes to grind with the Republican candidates. As a result, Tuesday's moderators may look forward to a grilling as intense as that of the candidates.
But CNBC's loss is Fox Business Network's gain. Tuesday's moderators, hosts Maria Bartiromo, Neil Cavuto and Wall Street Journal editor-in-chief Gerard Baker, will likely steer clear of contentious lines of questioning on candidates' personal histories or perceived inconsistencies, instead focusing on issues that the candidates and audience will view as more substantive. Fox Business Network has even taken to running an advertisement for the debate mocking CNBC for not asking "the real questions" in Boulder, an indication that the business network hopes to beat CNBC at its own game.
In turn, the candidates are likely to treat Bartiromo, Cavuto and Baker at least with grudging respect. Griping about media bias is a time-honored tradition in Republican presidential debates, but harder to swallow when the chyron on the screen is that of a network owned by Rupert Murdoch. Any unwarranted whinging also risks bringing in the attention of the commander-in-chief. "It turns out they can't handle a bunch of CNBC moderators at the debate," President Barack Obama joked at an event following the Boulder debate. "Let me tell you, if you can't handle those guys, then I don't think the Chinese and the Russians are going to be too worried about you."