Another First for President Obama, Who Just Landed on the Cover of Out Magazine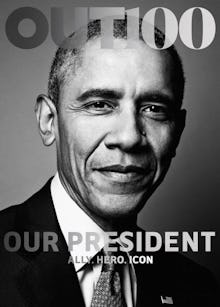 On Tuesday, President Barack Obama became the first U.S. president ever to pose for a photograph for an LGBT publication.
A black-and-white photo of Obama accompanied by the caption, "Our President: Ally. Hero. Icon" graces the cover of Out magazine's annual "Out100" special issue, with the POTUS named the magazine's ally of the year.
The last Democratic president, Bill Clinton, was responsible for the Defense of Marriage Act, which defined marriage as strictly between a man and a woman, a move Clinton has since said he deeply regrets. 
In the past, Obama, too, has taken conservative stances on same-sex marriage. During his 2008 Presidential campaign, Obama said he believed that marriage was a sacred blessing of God that should exist exclusively between one man and one woman.
In 2008, he told the Saddleback Presidential Forum, "I believe that marriage is the union between a man and a woman. Now, for me as a Christian ... it is also a sacred union. God's in the mix."
As Chicago LGBT newspaper the Windy City Times reported in 2009, Obama had slid from a strong supporter of same-sex marriage in 1996, when he ran for the Illinois state senate, to a more "practical" supporter of civil unions while he was a candidate for federal jobs in the Senate and White House.
It wasn't until 2012 that the president came out in full support of marriage equality for same-sex couples — an evolution the Washington Post dubbed a "long, tortuous metamorphosis." Obama's switch reflected a major reversal of public opinion on same-sex marriage, which Washington Post/ABC News polls found switched from 58% against and 36% for in mid-2006 to 52% for and 43% against in 2012.
Obama's presidency has since overseen historic progress on the LGBT front. In June, Supreme Court Justices Elena Kagan and Sonia Sotomayor, both Obama appointees, were key in the nationwide legalization of same-sex marriage in the Obergefell v. Hodges decision. Among his other LGBT victories: ending the military's "Don't Ask, Don't Tell" policy, issuing an executive order protecting LGBT federal employees and contractors against discrimination, creating a special State Department envoy to address LGBT issues around the globe, calling out the Republican Party for its ridiculous views on homosexuality and nominating the first out gay Army chief.
"Because of the groundwork that you and so many of you laid before, from sophisticated national campaigns to small, quiet acts of defiance — together, we've been able to do more to protect the rights of lesbian, gay, bisexual, and transgender Americans than at any time in our history," Obama told a Pride Month reception at the White House in June.
"We are big and vast and diverse," he continued. "We've got different backgrounds and different beliefs. We've got different experiences and stories. But we are bound by our shared ideal that no matter who you are or what you look like, where you come from, who you love — this is a place where you should be able to write your own ticket, and be who you are, and revel in your true self."
"We're a people who believe enough in America's promise to make it real for everybody."