Secret Room May Have Been Found in Khufu Pyramid — Full Details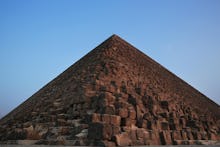 A little over two weeks into an ambitious project to use thermal scanning technology to "see through" the Giza pyramids in Egypt researchers have made several mystifying discoveries in the form of thermal anomalies. The first phase of the #ScanPyramids project came to a close on Nov. 8, at which point the Ministry of Antiquities was ready to share initial findings with journalists at a press conference on Monday in Giza, Egypt, located southwest of Cairo. 
Thermal scanning the Egyptian pyramids is a joint undertaking by The Faculty of Engineering at Cairo University and the Heritage, Innovation, Preservation Institute. Researchers are using muon radiography, a technique which was used in Japan to scan active volcanoes and see through the reactors at the nuclear power plant Fukushima. 
"At the end of the first mission of #ScanPyramids, the teams of the Faculty of Engineering, Cairo University, and the HIP Institute have concluded the existence of several thermal anomalies that were observed on all monuments during the heating up or the cooling down phases," reads a statement from the Egyptian Ministry of Antiquities, which was shared to Facebook on Tuesday. The ministry continues:
"Among the various identified thermal anomalies, the team have observed a particularly impressive one located on the eastern side of the Khufu Pyramid at ground level. It is interesting to observe that while sometimes temperature differences of 0.1 to 0.5 degrees are detected between two adjacent stones from limestone of different qualities, the #ScanPyramids infrared team has detected in this zone an area of few blocks having up to 6 degrees gap with neighboring blocks!" 
According to the ministry's release, there could be a number of considerations to explain the thermal anomalies, including difference in materials and internal air currents. Yet another explanation for the thermal scanning results, per the release, could be voids behind the limestone blocks that makeup the base of the Khufu Pyramid. Those voids could mean forgotten rooms await researchers' discovery. 
The ministry expects to continue its analysis on the data collected in phase one of its project and said it would begin to formulate hypotheses on its discoveries during the next phase of #ScanPyramids. Speaking at the press conference in Giza on Monday, Antiquities Minister Mamdouh el-Damaty welcomed all Egyptologists, particularly those with knowledge of ancient Egyptian architecture, to join in the research process and help devise hypotheses, the Associated Press reports. 
The Ministry of Antiquities and the HIP Institute shared a teaser for the project via YouTube on Oct. 26, one day after they began the undertaking. 
"Just because a mystery is 4,500 years old doesn't mean it can't be solved," reads the video's explainer.