2015 Fox Business Debate Live Stream: How to Watch Republican Debate Live Online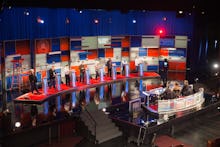 Fox Business Network and the Wall Street Journal will co-host the fourth Republican presidential debate of 2015 at 9 p.m Eastern Tuesday. The main debate will take place at the Milwaukee Theatre in Milwaukee and can be live-streamed on FoxBusiness.com.
The evening's hosts and moderators are Fox Business Network anchors Maria Bartiromo and Neil Cavuto, and Wall Street Journal editor-in-chief Gerard Baker. The GOP's eight top-polling candidates will share the stage for the main debate. 
Listed in descending polling order, per the Huffington Post's latest numbers, the top Republican candidates are real estate mogul Donald Trump, retired neurosurgeon Ben Carson, Florida Sen. Marco Rubio, Texas Sen. Ted Cruz, former Florida Gov. Jeb Bush, former Hewlett-Packard CEO Carly Fiorina, Ohio Gov. John Kasich and Kentucky Sen. Rand Paul. 
Starting at 7 p.m. Eastern, a first-round debate will kick off among the four GOP candidates whose poll numbers did not meet the 2.5% minimum required to participate in the main debate. Those candidates are New Jersey Gov. Chris Christie, Louisiana Gov. Bobby Jindal, former Pennsylvania Sen. Rick Santorum and former Arkansas Gov. Mike Huckabee.
In the hours before the debate, the candidates used social media to push their platforms, drum up awareness, attack their fellow candidates and showcase their chill.
Trump was bullish as usual:
Carson jokingly hit back at the "liberal media:"
Rubio was all smiles:
... that is, until the senator from Florida attacked Bush:
Bush's "Gameday" video was all business:
Cruz asked followers to spread the word:
Kasich blew off steam:
Fiorina positioned herself as a "true leader:"
And Paul hit up supporters for cash: