Kohl's Black Friday 2015: Ad, Door Busters and Biggest Deals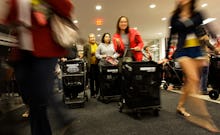 Kohl's started the Black Friday discounts early with a daylong sale Tuesday as a preview of sorts to the widely publicized holiday shopping day. 
The Wisconsin-based department store chain has also released a 64-page catalog well ahead of Americans' favorite shopping holiday, which this year falls on Nov. 27. Black Friday gets its name, some say, for its tendency to boost profit margins, or propel retailers from "in the red" to "in the black." Consumers can bust down Kohl's doors starting at 6 p.m. local time Thursday.
On the front page of the catalog, Kohl's boasted its biggest door busters (the dramatic discounts offered exclusively in-store for a brief period). Among the steals are two models of Fitbit wearables: the Fitbit Charge HR, priced down from its usual $149.99 selling point to $119.99, and the Fitbit Charge, priced down from $129.99 to $89.99.
Kohl's will also offer a 32-inch LED HDTV for $100 below its normal selling point, at $99.99. Diamond earrings, which typically sell for $400, will be priced at $99.99, while $355 diamond rings will be dropped to $69.99. Kohl's is also advertising a 50% discount off all toys from most major brands, among them Fisher-Price, Playskool, Little Tikes, Barbie, Hot Wheels, Tonka and Play-Doh.
Here's a collection of photos that capture Black Friday in past years: