Senator Claire McCaskill Has an Important Message for Men Who Won't Shut Up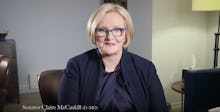 Sen. Claire McCaskill (D-Mo.) isn't afraid to use her voice. And as one of just 20 women in the Senate, she's used to being surrounded by men forcefully using theirs. In fact, the Senator had an important message for such talkative men on Monday night's episode of The Late Show with Stephen Colbert: Stop talking altogether.
"It's important to me to encourage more women to run for office," McCaskill said. But in addition to sending women this message, there's an "equally important" one she wants to impart to men. Sometimes, men should "just shut the hell up," she helpfully suggested.
"It's not that women don't value your thoughts, it's just that we don't value all of them," she explained. "The world doesn't need your opinion on everything."
Topics men can cease opining about, according to McCaskill? What women do with their bodies, who should play the next James Bond, the pronunciation of "gif," pantsuits, body hair removal, Star Wars and ethics in gaming journalism are just a few suggestions from the senator. 
"If you can control yourselves and hold back from further expressing your opinions on any of these topics, we'll let you keep weighing in on marijuana legalization," McCaskill promised. "But that's a huge, big if."
Although the video is clearly playful, it's hardly a surprising message from a politician known for advocating for those whose voices are often ignored — from sexual assault survivors to senior citizens to students and beyond. In fact, McCaskill has specifically spoken out about the gendered dynamics of who gets heard in politics before.
"The more voices, the more different voices, that are involved in public policy, the more sound the public policy is going to be," McCaskill states in the book What Will It Take to Make A Woman President. Having more women in political power, she continued, is "for the health of our democracy; it's for the ability of Washington to work collaboratively."
Hopefully, McCaskill's well-intentioned jab will encourage men to think twice before they speak — or, at the very least, before they mansplain.