Ronda Rousey Is Endorsing Bernie Sanders for President in 2016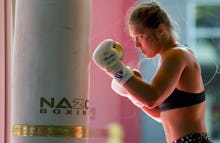 When participating in one of the most cutthroat competitions in the country — the race for the White House — it helps to have a winner in one's corner. At least, that's what Vermont Sen. Bernie Sanders' supporters are likely thinking, after one of the world's most popular and talented mixed martial arts champions, Ronda Rousey, threw her full support behind the Democratic presidential candidate this week.
"I'm voting for Bernie Sanders because he doesn't take any corporate money," Rousey, who is undefeated in the Ultimate Fighting Championship, said in an interview with Maxim published Tuesday. "I don't think politicians should be allowed to take money for their campaigns from outside interests."
"If he doesn't win against [former Secretary of State] Hillary [Clinton], then I'll probably vote for a third party again," Rousey told Maxim. "To be honest, in 2012 I was against both candidates, and so I just picked any third party because I thought if more people voted for third parties then they'd have to take third parties seriously."
As far as Rousey's concerned, a vote for real estate magnate Donald Trump is completely out. "I mean, I wouldn't vote for him," Rousey told CNN, according to Maxim. "I'm not really going to get into specifics of it, but, I mean, I don't want a reality TV star to be running my country."
On Saturday Rousey will defend her title against American MMA fighter Holly Holm, also known as "The Preacher's Daughter." 
Sanders' next big fight also falls on Saturday, as the presidential hopeful goes head-to-head with Democratic candidates Clinton and former Maryland Gov. Martin O'Malley at the CBS News primary debate at Drake University in Des Moines, Iowa.
According to the Huffington Post, Clinton is leading the Democrats by a landslide, polling at 56.9%. Polling at 31.2%, Sanders is in second, followed by O'Malley at 2.4%. 
Correction: Nov. 10, 2015