44 Oil Executives and Truck Drivers Were Just Arrested for a Multimillion-Dollar Scam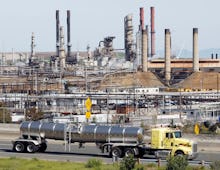 Dozens of New York City-area energy industry executives and truck drivers were arrested Tuesday as part of a law enforcement probe into a suspected scam on customers.
DNAinfo reports the bust includes over 40 "owners, executives and truck drivers from some of the city's largest fuel oil companies" who police accuse of rigging oil trucks to shortchange customers on heating oil. The alleged scammers, who DNAinfo reported include eight owners of fuel companies and three transportation depots, are accused of scamming developers and city agencies, including police and fire departments and those serving "the homeless and city schoolchildren."
Alleged victims also included the owners of smaller buildings who purchased oil from the companies implicated.
Prosecutors said the trucks were equipped with "diverter valves" that gave fake readouts of how much oil each customer was being delivered, DNAinfo reported. They also allegedly used other tricks to fool measuring devices designed to prevent fraud.
According to the New York Times, nearly a dozen unsealed indictments detail the allegations against the defendants, accusing them of stealing $34 million in oil over the course of a single year, or $18 million annually over the course of the yearslong scheme. The cost to the city was $4 million each year.
Crain's New York Business reported the indictments are the latest in decades of fraud allegations within the city's lucrative heating-oil industry, though previous allegations have mainly involved deliberate dilution of the oil with used oil, diesel and motor oil, or even "sludge residue from boilers."
Crain's also noted one of the buildings that received fraudulent shipments housed the offices of Manhattan District Attorney Cyrus Vance, who announced the indictments Tuesday at a press conference.
One source told DNAinfo that while "many" such operations are ongoing in the city, making it a "systemic, citywide issue," this "prime one was the overcharging by the millions."