Adele, Beyoncé Duet: "Hello" Singer Allegedly Turns Down Collaboration With Queen Bey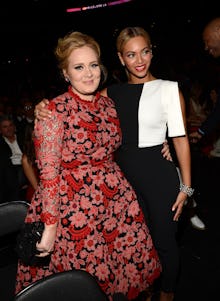 Singer-songwriter Adele, who recently broke both the Internet and some world records with the release of "Hello," her first music release in three years, reportedly turned down a duet with megastar Beyoncé. 
Beyoncé has allegedly been attempting to collaborate with Adele for a year with no luck, an unidentified source told British Heat magazine, according to the International Business Times. 
"Bey has been asking Adele for a year to join forces," the source allegedly told Heat. "She went into the studio with Adele at the end of last year and tried to convince her to collaborate on a track. Adele turned down the offer, so now Beyoncé is putting the song on her new album instead, which everyone is saying will drop before the end of the year."
With the upcoming Nov. 20 release of Adele's long-awaited third album 25, which she recently tweeted is written about her 25-year-old self, the 27-year-old told i-D magazine in an interview published Oct. 29 that she fears the personal and social implications that are attached to fame, which could explain why she'd avoid a solo with an Hollywood tycoon like Beyoncé. 
"I'm just frightened of it, you know?" Adele told i-D magazine. "Frightened of it destroying me and it ruining me, and me getting lost and turning into some of the people that I love with my whole musical heart."
Adele also told the magazine that she avoids social media to keep it real for her fans and the quality of her music. "It's not me trying to be like fucking anti-famous cunt-y, I just want to have a real life so I can write records," she told i-D. "No one wants to listen to a record from someone that's lost touch with reality. So I live a low-key life for my fans."