Starbucks Holiday Cup Controversy: Demi Lovato, Rob Lowe and Others Weigh In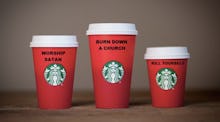 The whole Starbucks red cup controversy that swept social media early this week was like one of those awful fights between roommates that escalates for no particular reason. Some critics of the holiday cup, an annual tradition for the company, said the cup's pared-down design signified Starbucks hates Jesus. Others defended the coffee chain for its redesign, and now even celebrities have added their two cents to the Starbucks tip jar. 
Actor Rob Lowe and singer Demi Lovato have weighed in on the controversy, with very opposing views. Lowe apparently orders his coffee with a hint of shade, writing on Twitter, "I take my coffee with as much caffeine as I can get and with as little political agenda as I can get."
Lovato, on the other hand, suggested Starbucks should use a mug with her face on it rather than this year's version of the annual redesign. Lovato retweeted an image from a fan of the singer on a coffee cup with a quote that reads, "I like mugs." 
Lovato also tweeted on Tuesday, "Why doesn't Starbucks make the cups about the actual season: winter (snowflakes, snowmen, etc...) ... Also, why do we care this much about a cup.....? Mugs are where it's at anyways."
Republican presidential candidate and real estate magnate Donald Trump told a crowd in Springfield, Illinois, on Monday he was suspending a lease for a Starbucks in his Trump Towers in New York City, however it was unclear whether Trump was actually serious. "I have one of the most successful Starbucks, in Trump Tower," Trump said. "Maybe we should boycott Starbucks? I don't know. Seriously, I don't care. By the way, that's the end of that lease, but who cares?" Trump said to the crowd.
Fox News contributor and self-proclaimed "blonde Republican" Meghan McCain rather gruesomely summed up the irony of people claiming to be offended by the international coffee company's new red cup via Twitter. "ISIS is slaughtering Syrian children but let's keep getting offended over college 'safe spaces' and Starbucks cups," McCain tweeted, referring to the terrorist Islamic State group by its other name, ISIS.