T-Mobile Unveils Free Video Streaming, "Binge On," at Uncarrier X Event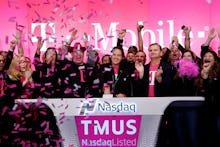 On Tuesday at is Uncarrier X event in Los Angeles, T-Mobile confirmed a big shift for the mobile carrier and a real win for the company's consumers: data-free video streaming. The new feature rolls out Sunday, according to CNET. 
T-Mobile is launching its latest offering, which the company's calling "Binge On," in partnership with a number of streaming services, among them Netflix, HBO Now, HBO Go, Hulu, WatchESPN, Showtime, Starz, Encore, Vevo, MLB, NBC Sports and Vessel, T-Mobile's CEO John Legere announced. In essence, the update means T-Mobile will no longer charge mobile users for the data it takes to watch pared-down versions of content on its streaming partners' mobile platforms. 
"Today, we're not only doubling your data in Simple Choice, we're making your data work a lot harder for you," Legere said in a statement. "With Binge On, video streams free from 24 streaming services to start, and more to come."
To make the streaming magic happen, T-Mobile built new tech to optimize how videos render on mobile screens, which minimizes the amount of data streaming eats into. Engadget first reported on the rumored update in October. 
Legere said the move was about staying ahead of T-Mobile's competitors. "Only T-Mobile would find a way for customers to watch unlimited HBO, Hulu, Netflix, Sling TV and more ... without eating into their LTE data, while the duopoly is squeezing consumers with overage fees and over-buying," Legere said in the statement. "T-Mobile is un-leashing entertainment and giving customers exactly what they want."
Many responses to the mobile carrier's latest data plan on Twitter were positive:
However, other's within the Twitter community pointed out something missing from T-Mobile's cohort of Binge On partners: YouTube.
It's unclear why YouTube was left off the list. 
T-Mobile's development speaks to a rapid shift in America's content consumption habits, as mobile users are increasingly streaming content on their phones. Mobile video consumption alone is expected to see a meteoric rise in the next five years, and could grow a projected 400% by 2020, according to T-Mobile.