Samsung Gear VR Oculus Headset: Release Date and How to Pre-Order Online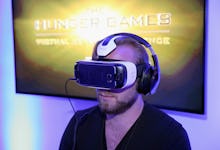 Samsung is now taking pre-orders for its virtual reality gear that's built to pair with its smartphones, PC Magazine reported. As of Tuesday, the tech conglomerate's virtual reality device, powered by tech company Oculus and dubbed Gear VR, is available to pre-order for $99. The VR headset is compatible with Samsung's latest smartphones, including the Galaxy Note 5, Galaxy S6 Edge+, Galaxy S6 Edge and Galaxy S6.
Pre-order and release date: The wearable virtual reality gadget is available to pre-order in the United States on Samsung's website, with an estimated Nov. 20 shipping date, the same day it will become available for purchase in Best Buy stores. The product will also become available to purchase at T-Mobile locations on Nov. 27, PC Magazine reports.
"Together with Samsung, we've redefined virtual reality and created the best mobile VR experience available today," CEO of Oculus Brendan Iribe wrote in a press release. "On Gear VR, people are playing immersive VR games with friends, sharing 360 video experiences, and teleporting around the world with photos and videos – and it's only the beginning for what's possible with mobile VR."
Gear VR is Samsung's first virtual reality device built for consumers. In 2014, the company released a similar device for beta testers that was 19% heavier and didn't include cushioning, Wired reports.
What Gear VR does: The cushioned headset uses the phone's display to simulate content into a virtual reality experience. Users can play virtual reality games made for the device and stream content in virtual reality through Samsung's virtual reality content-streaming service Milk VR and Netflix.