JC Penney Black Friday 2015: Ads, Hours and Biggest Deals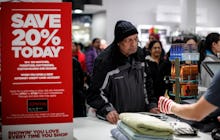 Department store J.C. Penney, like many major retailers, is gearing up for Black Friday 2015. Their ads and hours have already been released, with its official Black Friday deals beginning early on Thanksgiving day.
From 3 p.m. Eastern on Thanksgiving, Nov. 26, through 2 p.m. on Black Friday, Nov. 27, J.C. Penney will offer deals on a wide range of its inventory, including apparel, kitchen appliances, electronics and more, according to its latest Black Friday ad. The retail giant has urged customers to arrive early for a chance to earn super deals such as one of ten $10,000 cash prizes.
Through Wednesday, J.C. Penney is also offering Veterans Day deals that include free shipping with purchases of at least $99, as well as anywhere from 15% to 20% with code 4RVETS, according to its website. 
J.C. Penney's most advertised Black Friday deals: On the main page of its Black Friday advertisement, J.C. Penney boasts 30% off all fine jewelry; sweaters and flannels for $9.99; kitchen appliances, including a coffeemaker, blender and set of pans, for as low as $4.99, among other deals.
Other noteworthy deals include $12.99 for an 18-piece glass storage set, A 5-quart KitchenAid mixer for $299 (originally priced at $500), $30 wearable fitness trackers and $10 memory foam pillows. 
While these deal are enticing, a trip to J.C. Penney on Black Friday won't be a walk in the park. Here's a look at the scene at J.C. Penney locations throughout the U.S. on the consumer holiday in years past: