Erykah Badu New Single "Phone Down" Out, Mixtape 'But You Can't Use My Phone' Coming Soon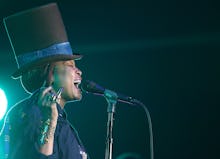 Erykah Badu dropped a new single Monday titled "Phone Down" in anticipation of her forthcoming mixtape, But You Can't Use My Phone. The song was streaming via SoundCloud and Apple Music beginning Monday night, surprising fans who were unaware yet another surprise release was coming from the 44-year-old R&B artist.
Badu tweeted a link to the song on Monday, also available for download via iTunes, writing, "Phone Down, Official Leak, Hehehehe."
"Phone Down" feels similar to Badu's recent remix of Drake's "Hotline Bling," with a steady beat and catchy, repetitive lyrics. Both are from the artist's upcoming album, set to be released during Thanksgiving weekend, according to a message Badu wrote on her iTunes page. 
"Phone Down...Official leak," Badu's message reads on the "Phone Down" iTunes page. "From my forthcoming mixtape: But You Can't Use My Phone (drops Thanksgiving weekend)."
Badu's new mixtape But You Can't Use My Phone likely gets its title from a lyric from the artist's 1997 single "Tyrone," in which the singer sings about a failed relationship and forcing her ex to call his friends for help moving out from their home.
Listen to "Phone Down" via Apple Music below:
Source: Soundcloud