Trevor Noah Just Started an Online Petition to Free Jeb Bush from the Bush Family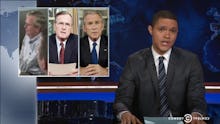 On Tuesday night, The Daily Show With Trevor Noah was sensitive enough to recognize the parallels between Jeb Bush and killer whales. And suddenly, it all seems so obvious. 
On the heels of SeaWorld's announcement Monday it will end some of their long-protested killer whale shows — in large part due to the 2013 documentary Blackfish, which exposed the alleged cruelty of its orcas — Noah shared another tragic tale: Bushfish.
"Recently, I realized that Republicans have their own blackfish," Noah said. "His name is Jeb Bush, and here he is in campaign captivity."
Like the orcas of SeaWorld, Bush too lives in an environment where he is forced to perform for an audience, Noah argued. And now the host has started a Change.org petition to "demand [the] release of Jeb Bush from [his] cruel presidential campaign."
In a clip plucked from the news, Bush is asked what it felt like to have someone advise him on the proper use of humor, to which Bush lets out a protracted groan while shaking his head.
"Just stop," Noah cries. "Stop it. I can't. He's in so much pain."
The host goes on to wax poetic about the stifling nature of Bush's confinement. 
"You see, Jeb has never known the freedom of swimming in a great big ocean — an ocean called 'life' — because he was born in the tiny tank of American politics." 
"His father was president, his brother was president. In the Bush family, you weren't considered a man until you invaded Iraq or lost your virginity ... With all the other Bushes retired, Jeb was pushed to the center of the pool, and since then it's been more sink than swim."
"Now, we at The Daily Show won't stand by and let this happen on our watch," Noah said. "We want you to sign the petition and free Jeb."
So, animal lovers, humanitarians and bleeding-heart Jebbies: Now is your chance to make a difference. Sign the petition so Bush can be freed from campaign captivity once and for all. We've let the suffering go on for too long.