2015 Republican Debate Transcript: Full Record of Fox Business Network GOP Debate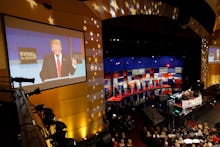 The fourth Republican presidential debate unfolded Tuesday at the Milwaukee Theatre in Milwaukee. Co-hosted by Fox Business Network and the Wall Street Journal, the economy-focused debate saw the GOP's eight top-polling candidates sparring over raising — or not raising — the minimum wage to $15, tax reform, immigration and race relations, among other things.
Among the most pointed moments of the night were real estate mogul Donald Trump and Ohio Gov. John Kasich going head-to-head on the deportation of illegal immigrants, former Hewlett-Packard CEO Carly Fiorina arguing for a paired-down tax code and former neurosurgeon Ben Carson overlooking a key bit of history when addressing race and wealth in the United States.
In a flash of déja vu, Texas Sen. Ted Cruz had what many called a "Rick Perry moment" when he fumbled on naming a list of federal agencies he would eliminate as president. 
The general feeling on Twitter was that Cruz, Florida Sen. Marco Rubio and Kentucky Sen. Rand Paul were the night's winners. As for off-stage victories, the night's moderators — Fox Business Network hosts Neil Cavuto and Maria Bartiromo and Wall Street Journal editor-in-chief Gerard Baker — were also widely believed to have outperformed the previous debate's moderators, which CNBC hosted last month.
For full run-down of what was said, head to the Washington Post for an annotated transcript. Time also has the full transcript from the Republican undercard debate, which preceded the main event and showcased the four Republican candidates polling under 2.5%: New Jersey Gov. Chris Christie, Louisiana Gov. Bobby Jindal, former Pennsylvania Sen. Rick Santorum and former Arkansas Gov. Mike Huckabee.