Obama Officially Backs Efforts to Combat LGBT Discrimination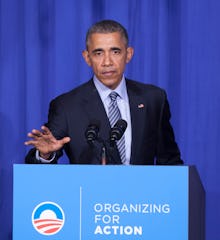 On Tuesday, President Barack Obama put any lingering doubts about his allegiance to the LGBT community to bed. 
Not only did he send a powerful social message when he became the first U.S. President to be photographed for an LGBT publication (in this case, Out magazine), he also endorsed legislation that aims to tangibly ban discrimination against the LGBT community.
The Equality Act was introduced in July by Sens. Cory Booker (D-N.J.), Jeff Merkley (D-Ore.), Tammy Baldwin (D-Wis.) and Rep. David Cicilline (D-R.I). It purports to affirm LGBT individuals' civil rights and protect them from discrimination by amending the Civil Rights Act of 1964.
While the likelihood is slim that the majority-Republican Congress will pass this act, White House Press Secretary Josh Earnest told reporters Tuesday, "We certainly are pleased with the many legislators in Congress that have stepped forward to try to advance a bill that would deliver comprehensive equal rights for LGBT Americans," the Washington Blade reports.
Why it's necessary: "It is unacceptable that in 2015, in the United States, an individual could be fired from his or her job, a family could be kicked out of a movie theater or a couple denied a mortgage on the basis of their sexual orientation or gender identity," Booker wrote about his support for the act for Mic in July. "It is unacceptable that lesbian, gay, bisexual and transgender Americans are not fully protected from discrimination under federal law."
While activists have certainly faced disappointing setbacks — most notably, Houston voters' failure to approve Prop 1, an equal rights ordinance that would have barred multiple types of discrimination — 2015 alone has seen promising progress, including not only marriage equality, but also important steps towards ending job discrimination, for example. Polls also show that the American people overwhelmingly support legislation that seeks to end LGBT discrimination: 69% of likely voters support a federal LGBT non-discrimination law, according to a 2015 Human Rights Campaign poll.
This isn't the first time Obama has officially advocated for the basic rights of LGBT Americans. In June, he called the U.S. Supreme Court's ruling on same-sex marriage a "victory for America," according to USA Today. What's more, he ushered in the repeal of the military's ban on openly lesbian, gay and bisexual service members in 2011, created a special State Department envoy to address global LGBT issues and signed a LGBT-inclusive Violence Against Women Act.
Ultimately, Obama's support of the Equality Act comes down to a crucial, yet simple, tenet.
"I believe in the principle of treating people equally under the law," Obama said in July. "And [LGBT individuals] are deserving of equal treatment under the law and the state should not discriminate based on their sexual orientation."
h/t the Washington Post