Dunkin' Donuts Keeps Holiday Cups, and Religious People are Overjoyed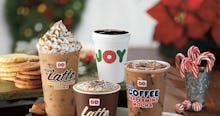 Dunkin' Donuts unveiled its seasonal coffee cup design for the holidays on Tuesday, giving java drinkers a cup sporting Christmas-themed colors and the word "Joy" in red script. While many praised the release, others thought the coffee brewer's move was a transparent jab at its competitor, Starbucks, whose own holiday cup this week sparked a polarizing controversy.
It wasn't long before Dunkin' Donuts cleared its throat and shared this photo via Instagram on Tuesday:
The social media response from consumers was predictably divided. Those who opposed Starbucks' seasonal design, which left holiday imagery, most notably Christmas imagery, aside for a simpler look, saw the new Dunkin' Donuts cups and cried, "Behold, how good and how pleasant it is."
"There's nothing like waking up and worshiping God with your friends in the morning at Dunkin' Donuts," wrote one Twitter user. "Hey Starbucks, while you y'all are busy being the Grinch, Dunkin' Donuts is running circles around you guys," added another.
On the other side of the coffee cup war were Twitter users who accused Dunkin' Donuts of trolling Starbucks and blatantly "capitalizing on [the] Starbucks holiday cup controversy," as one user put it.
As of Wednesday morning, Starbucks had not weighed-in on the cup controversy or its competition. It did, however, stand behind its holiday design, and even posted a giveaway promotion to social media that features the red cups prominently. The brewer is running a buy one, get one free deal for its holiday beverages from Thursday through Sunday between the hours of 2 p.m. and 5 p.m.
This season, Starbucks opted for an all-red cup design, which offended some of its religious customers who would have liked to see more Christmas flair. Those consumers lambasted the compnay on social media, while some Christian groups even organized Starbucks boycotts. Others pointed out the banality of the whole "controversy."