This Victoria's Secret Model Swiftly Shut Down a Food Question From Reporter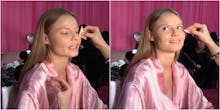 The backstage area for the annual Victoria's Secret Fashion show is usually chaotic — full of models, makeup artists, hair stylists and plenty of reporters prowling around. In this crowded mix was a TMZ sleuth hopping from model to model asking them the tough questions: what they hoped to eat after the show.
A few models obliged, saying they looked forward to eating ice cream or pizza. But one model, Magdalena Frackowiak, wasn't having any of it. 
She shut down the reporter's question, "What are you most excited about eating after the show?" with a "This is stupid," and clearly explained why:
Asked while Frackowiak was getting her makeup done, the question's vapidity took her by surprise. "No, guys, not with these kind of questions," she says on camera. "This is stupid. Ask more smart questions, not eating after the show."
The reporter tries to back away with an "alright, OK, fair enough," but Frackowiak wanted him to understand exactly what was wrong with the question and the stereotype it played into.
"No ... you make me look like an idiot," she tells him, adding a side-eye when the reporter says he understands they work hard. "Yeah but it seems like I'm starving myself, and I can't wait for the show to end to eat," Frackowiak said.
Victoria's Secret models are, of course, known for being long-limbed beauties with rock-hard abs. Many an article has been written about how the Victoria's Secret Angels work out and what their diet consists of, because let's face it, people are curious about how they get those bodies, in part because our society's beauty norms inspire us to want them.
The models aren't usually shy about sharing how they work out. But the idolization of their bodies also comes with a fixation on what they eat, often based on an underlying assumption the models must starve themselves in order to maintain their slim figures — or a skepticism that judges the models for eating high-calorie food while "magically" staying thin, a la the viral "You Didn't Eat That" Instagram.
So when TMZ asked what she hoped to eat after the show, Frackowiak knew what the assumption was and the voyeuristic food-shaming that can come with it. 
Plus, there are so many better questions to ask the models, and they're not the first working women who are sick of vapid media questions that focus on a woman's appearance. The #AskHerMore campaign, spearheaded by Reese Witherspoon, encouraged the press to ask actresses about their accomplishments rather than their outfits. 
Perhaps a call to get reporters to lay off the subtly shaming diet questions and focus on models' professional accomplishments is overdue.
In the meantime, reporters, Frackowiak welcomes all your non-food-related questions backstage.
Watch Magdalena's response below (:45 mark):
h/t Refinery29