The White House Just Made an Incredible Move on Behalf of Military Veterans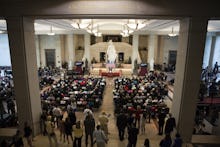 Paying for college will be a little easier for military veterans and their families.
Reuters reports the Obama administration will push Congress to offer in-state tuition rates for recent veterans and their families attending public colleges and universities in all 50 states. The White House is set make the announcement Wednesday to coincide with Veterans Day.
In-state tuition is a rate typically offered to residents enrolling in public higher education programs in their home state. Under President Barack Obama's proposal, however, this rate would apply to veterans regardless of which state they choose to attend school in.
Under the current Post-9/11 GI Bill, which outlines the government benefits awarded to eligible military veterans, the government pays all tuition and fees to some veterans who qualify for in-state tuition rates.
The average in-state tuition cost is $9,139 for a four-year school, according to the College Board — less than half of the average out-of-state rate, which is $22,958. The Obama administration is also improving an online tool that allows veterans to compare schools and programs, so as to better gauge quality and avoid deceptive enrollment tactics, Reuters reports.
The White House will also pressure Congress to streamline the appeal process for veterans' disability claims and ease their access to private medical care, according to the New York Times.
These announcements come more than a year after myriad abuses were uncovered at medical facilities run by the Department of Veteran Affairs across the country, including dozens of patients dying after months spent on waitlists to receive medical care.
According to VA statistics, only 15% of student veterans are of traditional college age, with most falling between 24 and 40. Nearly half have children, and 62% are first-generation college students.
The White House's proposal stands to help a lot of people access quality higher education.