Hailee Steinfeld New Album 2015: How to Stream a Preview of 'Haiz'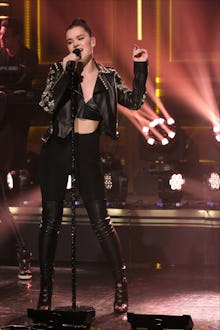 Up-and-coming singer Hailee Steinfeld already slayed the modern girl power anthem with her first single "Love Myself," which many listeners have said sounds like an ode to female masturbation. Now, the 18-year-old has given us a sample of her first EP, Haiz, ahead of its release Friday.
The Haiz audio sampler, posted Tuesday to YouTube, features snippets of four songs including "Love Myself" and unreleased tracks "You're Such A," "Rock Bottom" and "Hell Nos and Headphones." The newly released preview indicates that Haiz will feature an eclectic mix of punchy anthems and chiller tunes that all showcase Steinfeld's rough and sultry vocal chops.
Steinfeld is known for her role in Pitch Perfect 2, where she first showed off her vocal ability; her Oscar-nominated role in the 2010 film True Grit, and as a member of Taylor Swift's notorious "Bad Blood" girl squad. In an interview with Vogue published Monday, Steinfeld said she's a bit nervous about transitioning from film to music. 
"I do find it nerve-wracking that it is me and my story, and not a character or a role that I'm playing," Steinfeld told Vogue. "It's all happened so quick but so organically, which is what's so special about it."
She also cleared up that while "Love Myself," can be interpreted as a sexual innuendo, it's ultimately up to the listener. "I do, obviously, reiterate that the lyrics are subject to the listener's interpretation," she told Vogue. "And the song is ultimately about taking care of yourself — and whether that means physically or emotionally or with material things, it shows how much power there is in having that self-love or self-confidence."