Lamar Odom Update: Khloé Kardashian on Odom's Recovery and the State of Their Marriage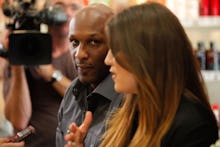 Lamar Odom's health is reportedly improving following the retired NBA player's collapse in a Nevada brothel last month. In a Monday night interview with Extra, Odom's estranged wife, Khloé Kardashian, said Odom, 36, is "alive on his own and no machines are helping him," but added that he still has a long road of recovery ahead.
"When he can support himself on his own, or physically try to walk better on his own or at least with an assistance ... then he will probably leave the hospital and do a lot of cognitive and mental strengthening," said Kardashian, 31. "Some days he's really strong, and some days he's weaker than the day before because it's mentally draining, I'm sure, on him."
Odom, a two-time NBA champion with the Los Angeles Lakers, was found unconscious after reportedly abusing "herbal Viagra" and cocaine during a four-day stay at Nevada's Love Ranch in Carson City. Odom was rushed to a nearby hospital, and transferred to a California hospital weeks later, where Kardashian reportedly stood vigil.
Kardashian, who starred alongside Odom on the reality shows Khloé & Lamar and Keeping Up With The Kardashians before their separation in 2013, thanked her fans for their support on her website, writing, "You can never be prepared for an experience like this, but without the outpouring of love and endless prayers that Lamar has received and the strength I was given from my loved ones, it would have been difficult to endure."
However, Kardashian maintains her marriage with Odom is no longer intimacy-based, having told People, "I wish people understood that's not in our thought process right now ... But that does not mean I'm back with Lamar. That's a whole other thing that only time will tell. I can't tell you what tomorrow brings." Kardashian is currently dating NBA player James Harden, and has been flirting with the basketball star on social media.
Although Odom's recovery has at the center of Kardashian's life, she is pressing on with her work, currently promoting her new self-help book, Strong Looks Better Naked, which, she told Extra, was written during a more balanced time in her life. 
"It's just awkward timing," she said, "but I definitely feel like the strongest that I've ever been and it was highly requested, people kept saying, 'How did you get over a divorce?' or, 'How did you get through this or your father's death?' So many obstacles that I have been through that have been public and, 'How did you do it and still always be so positive?'"
Check out a video of Extra's interview with Khloé Kardashian here.