Elizabeth Warren Is Not Happy About a New Ad That Makes Her Look Like a "Commie Dictator"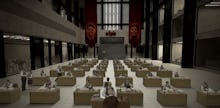 Anyone who managed to sit through Tuesday's Republican presidential non-debate might have noticed a curious political ad that ran during a commercial break. It was about the Consumer Financial Protection Bureau — and how they're coming to imprison your dreams in a Stalinist gulag. 
"With the Consumer Financial Protection Bureau, those who need help the most are denied," a stern narrator intoned as bureaucratic drones ominously stamped papers. "Tell Congress to stop the CFPB now, before they deny you."
Right... because everyone knows that the D.C. uniform is basically that of a dystopian Catholic school.
Far from some nebulous loan-denying super agency, the CFPB's officially-stated purpose is to bring transparency to financial products (Think: credit cards, student loans, mortgages) by forcing companies to be more forthright about the costs rather than burying them in fine print. The agency also calls itself a "cop on the beat" to police firms and deters them from malfeasance.
The ad didn't sit well with Sen. Elizabeth Warren (D-Mass.), whose face appears in the ad on a red and black banner alongside that of CFPB director Richard Cordray. Warren was one of the architects of the CFPB and was briefly considered to head up the bureau before she was elected to the Senate. On Tuesday, famously pugilistic Warren unleashed a six-tweet rebuttal.  
The ad was paid for by the self-described "center-right" American Action Network, which spent $500,000 to run the spot seven times Tuesday evening, Politico reported. The CFPB was also name-checked in the debate itself, during a Carly Fiorina screed about "how socialism starts." The bureau, said the former Hewlett-Packard CEO, is "a vast bureaucracy with no congressional oversight."
The agency is one of the most enduring legacies of 2010's Dodd-Frank Wall Street Reform and Consumer Protection Act. The law was introduced in an effort to prevent financial meltdowns like that of 2008, and was one of President Barack Obama's signature pieces of legislation.
But none of that is likely to matter much. With truth now discarded to the ash heap of 20th-century politics, the 2016 campaign marches forward. Or, in the words of George Orwell: Ignorance is strength.