Virginia Just Became the First State in the US to End Veteran Homelessness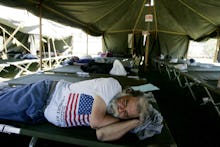 The fight to end homelessness among veterans has hit a major milestone: Virginia has become the first state in the nation to functionally eliminate veteran homelessness within in its borders.
Virginia Gov. Terry McAuliffe, a Democrat, announced Wednesday his state has met the federal definition of ending homelessness, meaning there are no veterans who lack housing, except for those who have refused an offer. The benchmark also means that state has the resources to take in any veterans who want housing in the future within 90 days.
Virginia, which has the seventh largest veteran population in the country, has matched more than 1,400 homeless veterans with permanent housing in the past year, McAuliffe's office said.
The program: The philosophy underlying the state's initiative is "housing first" — a policy that holds that providing homeless people with safe, supportive shelter is a precondition for attending to the issues that caused them to slip through the cracks in the first place. Supportive services in permanent housing typically keep residents linked to social workers and include health services — most single homeless adults have some kind of serious physical, mental or substance abuse-related problem — and job readiness programs.
Virginia's announcement on Veterans Day corresponded with other city-level announcements. The city of Las Vegas; the city of Syracuse, New York; and the city of Schenectady, New York, will also announce that they have ended veteran homelessness in their cities, according to a release from the White House, which has championed these programs.
In 2010, the Obama administration unveiled a national plan to end homelessness, with a focus on veterans. In the past year, Houston, Phoenix, New Orleans and a number of other major cities have successfully been able to pull all of their homeless veterans off of the streets using the housing-first model, funded in part by housing vouchers provided by the federal government.
Veteran homelessness has declined by 36% between 2010 and January, according to the White House. 
Housing-first has proven to be a cost-efficient and humane solution to ending homelessness. Hopefully the wisdom of that policy will be extended to nonveteran homeless people with the same focus in coming years.
Catch up on the news that matters in 5 minutes or less by signing up for our daily email news briefing.