Amtrak Train Death: Boston-Bound Train Strikes and Kills Person on Tracks in Connecticut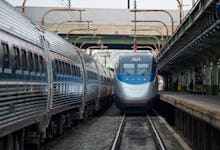 An unnamed person was struck and killed by an Amtrak train near the Main Street Station in Stratford, Connecticut, early Wednesday morning, according to multiple reports.
The fatal incident occurred a little before 8:30 a.m. Eastern, according to Reuters, when Amtrak train 190 struck a person who the Metropolitan Transit Authority have yet to identify. The authority referred to the person killed as a "trespasser" in an advisory. The train was traveling northbound from Washington, D.C., and was expected to arrive at Boston's South Station at 11:05 a.m. Eastern.
"Train service between New Haven and Bridgeport has resumed with delays due to police activity as a result of a trespasser struck by a train," the MTA advisory reads. "New Haven Line customers traveling through this area should anticipate delays of up to 30 minutes."
Amtrak's Metro-North line also announced multiple delays via its Twitter account.
The delays continued past 10:00 a.m. Eastern on Wednesday.
It's unclear why the unnamed person was considered to be trespassing on the Amtrak train tracks at the time of the incident. MTA said police were investigating.
Wednesday's incident adds to a number of Amtrak-related deaths in Connecticut since August, according to the Darien Daily Voice. Twenty-eight-year-old Stamford resident Tamar A. Louis was struck and killed by an Amtrak train Aug. 7. On Sept. 9, a Metro-North train struck and killed the Rev. Colin McKenna, 50, near Westport. And on Oct. 20, 41-year-old Milford resident Jennifer Battista was struck and killed by an Amtrak train in Fairfield. 
Nov. 11, 2015, 10:40 a.m. Eastern: This story has been updated.