Leafs By Snoop Products: Here's Where to Buy Snoop Dogg's New Line of Marijuana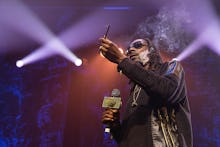 American rapper and actor Snoop Dogg dropped his new line of cannabis products, Leafs by Snoop, at a product launch in Denver, Colorado, on Monday. The Leafs by Snoop product is currently available for purchase at dispensaries in the Colorado cities of Denver, Garden City, Mancos, Cortez, Lakewood and Colorado Springs. Here's a full list of those dispensary locations. 
"Wherever my musical journey has taken me around the world, it's beautiful to see how chronic leafs are a common source of peace, love and soul that connects us all," Snoop Dogg wrote on the Leafs by Snoop landing page. "I've always been proud of our movement and have personally selected my favorite strains to enjoy. Leafs by Snoop is my way of sharing the experience I have with the finest quality cannabis one could imagine."
Leafs by Snoop's Flower collection includes eight strains: four indica-dominant hybrids, three sativa-dominant hybrids and one high CHD strain. According to a product video for the rapper's new line, "Snoop Dogg personally selected all Leafs by Snoop strains for their aroma, taste, effect and bud structure."
In the edibles department, Leafs by Snoop offers handmade, Fair Trade chocolate bars with activated cannabis oil and a selection of specialized edibles, including "Peanut Butter Gems," gummy candies and fruit chews.
"It's a true blessing that I can share the products I love so much with y'all today," Snoop said at the event in Denver, Colorado, according to Merry Jane, a cannabis-focused lifestyle publication Snoop Dog launched in September. "From the flower to concentrates and edibles, it's all handpicked by yours truly so you know it's the hottest product out there. It's the real-deal and you gotta get out to Colorado to try it first!"
Snoop Dogg's Leafs by Snoop product video is streaming on YouTube.