Tumblr Now Allows Instant Messaging. Here's How It Works and What Users Think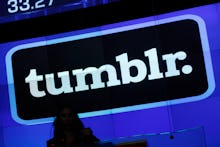 The blogging platform Tumblr introduced instant messaging on Tuesday, allowing users to privately interact with each other instantly within the site for the first time. While the company stood behind the move, saying it was fulfilling many Tumblr users' desire for "threaded conversations," some users weren't so thrilled. 
"You've asked us for real instant messaging, and now it's on its way," Tumblr's manager of community management Heather Merrick wrote in an announcement on Tuesday. A previously-existing inbox feature called "fan mail" has allowed users to send each other email-like messages, but the new feature allows for instant interaction and threaded conversations. The feature will gradually roll out for all Tumblr users over the next few weeks, per the announcement, while Tumblr "works out some kinks."
Here's how it works: For now, users with the messaging feature can spread the love by messaging friends. Doing so will activate the new feature for them as well. Within a few weeks, Tumblr promises that everyone will have instant messaging. Private and group blogs can't use the feature yet, according to Merrick's announcement.
Bloggers aren't limited to messaging people they follow anymore, as is the case with fan mail. Blogs can instant message any blogs, but bloggers can also update their preferences to only receive instant messages from blogs they follow. 
Not so well-received: Though Tumblr claims its users have been wanting instant messaging for a while now, some reacted with disapproval on Tumblr's Facebook announcement of the new feature. 
"People like the option of being unreachable!" a Facebook user identified as Stoner J Nieves wrote. "So here goes all the girls askin' for favors and guys sending girls dick pics. Way to go Tumblr."
"Well this is stupid... if you want to chat there's other social media platforms for this," another user wrote. "Tumblr...stop trying to be like Facebook."
A Facebook user by the name Laura Thompson wrote she has too many followers on Tumblr who will likely pester her through instant messages. "This messenger is crap and i have a feeling its going to get super annoying for those who have tons of followers (like myself) that will be bombed with pointless messages from randoms and can we please get rid of the Fanmail while we're at it cause that's super annoying too," Thompson wrote.