These New Zealand Pols Walked Out of Parliament to Stand Up for Sexual Assault Survivors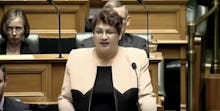 Women may compose less than a third of New Zealand's Parliament, but several just proved when they act in solidarity, their power knows no bounds. After Prime Minister John Key made offensive comments about sexual assault, several female members of Parliament refused to remain silent — and were even forced to leave Parliament for speaking out.
The comment: On Tuesday Key was asked about the treatment of detainees inside the Christmas Island detention center in light of a recent retroactive policy change requiring the deportation from Australia to New Zealand of some citizens who had been convicted of crimes and riots subsequently breaking out within the center. MPs questioned Key about whether some New Zealanders in the center had been unfairly detained for petty crimes or without being charged for any crimes at all, according to the New Zealand Herald. 
The MPs questioning Key likely expected him to respond critically, but Key even accused his opponents of supporting egregious crimes.
"Some of the [detainees] are rapists, some of them are child molesters, and some of them are murderers," the Guardian reported Key said, adding to Labour MP Kelvin Davis, "If you want to put yourself on the side of sex offenders, go ahead my son, but we'll defend New Zealanders."
It turns out of the 200 detainees on Christmas Island, four were rapists, Australian Immigration Minister Peter Dutton said Tuesday, the New Zealand Herald reported — Key still doubled down on his comments, later telling Radio New Zealand that he failed to see how he overstepped, according to the New Zealand Herald.
Many MPs were offended by this comment, to the point that three-quarters of Labour MPs walked out of parliament, as did several Green members, according to the Guardian. Perhaps more enraged than any were a group of female MPs who had themselves survived the crimes he claimed they support.
Taking a stand: "As the victim of a sexual assault, I take personal offense at the Prime Minister's comments and ask that you require him to withdraw and apologize," Green party co-leader Metiria Turei stated on Wednesday, according to the Guardian.
Several other MPs echoed Turei's statement, referencing their own assaults and calling for an apology, and continued to do so until two female MPs were thrown out of the House. Several others voluntarily followed. 
"We've walked out because every woman in this country needs to know that women parliamentarians will not put up with this," Green MP Catherine Delahunty, who voluntarily walked out, told the Guardian. "We will not stand by and allow this to be bandied around parliament — this kind of abuse of people and way of approaching rape is simply unacceptable, and the prime minister has to be held to account."
Watch video of the walk out below:
h/t the Guardian