Marijuana Legalization in Ohio: Here's the Future of Legal Weed After Issue 3 Failure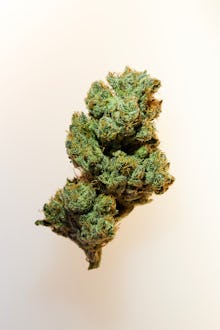 After Issue 3, a bill that would have legalized marijuana in Ohio, was shot down by voters last week, another pro-legalization group is already gearing up for round two with a new initiative to legalize pot and create an industry for it in the state. 
Legalize Ohio 2016 is proposing a more open market, with a new amendment aimed at regulating cannabis and the slogan "Fair. Sensible. Regulated." The group has set Jan. 1, 2017, as the date its proposal would go into effect, should it go before voters in 2016.
"I don't think Ohio is against legalization, I just don't think it was ready to legalize in the way Issue 3 was proposing," Legalize Ohio 2016 volunteer Cara Monigold told WTOV 9 on Monday. "Our state will have a shot at a more open market and a more open industry. A lot more people will be helped, a lot more patients will be helped, and a lot more jobs will be created."
Opponents of Issue 3 said they were more against the monopoly it proposed than against legalization itself. The bill, drafted by pro-legalization group ResponsibleOhio, would have granted exclusive marijuana production rights to 10 sites throughout the state. 
Legalize Ohio 2016 amendment: Legalize Ohio 2016's amendment would instead create an open market, allowing Ohio farmers to grow and sell industrial marijuana, and legalize recreational marijuana use for those over 21. Under the amendment, medical marijuana patients of any age could apply for patient identification cards with the state's health department. 
There are various caps on how much marijuana one can possess, but with a loophole: The legislation would allow marijuana users to possess an unlimited amount of marijuana if it's cultivated in their own home. 
Packaging will be clearly marked to assure the drug stays out of the hands of minors, according to the amendment, and will also include dosage and usage recommendations.
Review the entire amendment here. 
Legalize Ohio 2016 had its amendment verified in June 2014, but with the defeat of Issue 3, the fight is on to get it passed. Legalize Ohio 2016 needs 360,000 signatures in support of the amendment by July 1 to earn it a spot on the 2016 ballot, WTOV 9 reports. According to its website, Legalize Ohio 2016 is in its "final stages" of collecting signatures.