Joe's Crab Shack Just Became the First National Chain to Try Out Eliminating Tipping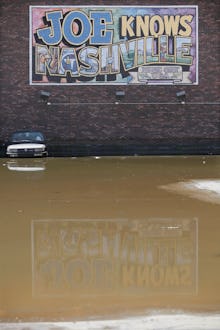 Put those dollar bills back in your pocket. They're not wanted here. 
In a historic move, Joe's Crab Shack has become the first national restaurant chain to test out the business model of eliminating tipping. Instead, it's raising the hourly wage to around $14, though the exact number is dependent on the servers' performance.
The trial was introduced several months ago, and it's currently being tested in 18 restaurants across the country, said Ray Blanchette, president and CEO of parent company Ignite Restaurant Group, during a conference call with investors on Thursday.
"We believe this forward-thinking policy really puts Joe's at the leading edge of casual dining," he added. "We also believe it reflects our commitment ... to being a great place to work."
While a service charge will not be added to customers' bills, the menu has seen a minor increase in prices. "At Joe's, I believe great food, service and atmosphere should be included in the price of your meal," Blanchette said.
Tipping point? The trial coincides with restaurateur Danny Meyer's decision to eliminate tipping in all of his restaurants. In an open letter published on Oct. 14, which sparked a national discussion on the value of preserving a tipping culture in the service industry, Meyer explained how and why he decided to introduce the compensation overhaul. 
"We believe hospitality is a team sport and that it takes an entire team to provide you with the experiences you have come to expect from us," Meyer shared in his open letter. "Unfortunately, many of our colleagues — our cooks, reservationists and dishwashers to name a few — aren't able to share in our guests' generosity, even though their contributions are just as vital to the outcome of your experience at one of our restaurants."
Furthermore, research suggests physical attributes, rather than service quality, are more likely to influence how much someone tips. 
One study published in Sociological Inquiry found black servers were discriminated against by both black and white customers, getting lower tips than their white colleagues, and a Cornell University study revealed female servers regarded as more attractive received higher tips.
These results reinforce those advocating for the elimination of tips and instead paying servers fair wages. Momentum, it would seem, is on their side. 
"I personally believe tipping is an antiquated model," Blanchette shared. "[Eliminating it is] expected to result in an improved team atmosphere, a significant reduction in turnover and greater financial security for the employees."