Ithaca College Protests: Walkout Planned Amid Ongoing Missouri Racism Controversy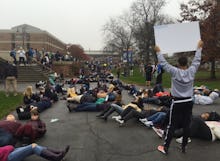 Adding to an already rocky landscape for race relations on college campuses, and echoing recent protests over alleged racism at the University of Missouri, Columbia, hundreds of students at Ithaca College in upstate New York organized a "Solidarity Walk Out" on Wednesday. According to the Ithaca Journal, protesters are calling for the resignation of the college's president, Tom Rochon, over alleged racial injustices on campus. 
Protesters are rallying behind a no-confidence vote for Rochon in the wake of a number of alleged incidents on Ithaca's campus this fall. On a Facebook page detailing the walkout, event organizers drew ties to the events in Missouri. "With University of Missouri's [system] president stepping down, we demand Rochon to do the same as it is vital to fight against both covert and overt racism in all places of education and empowerment," organizers wrote on Facebook, the Ithaca Journal reported. 
Protesters abandoned classes around 1:30 p.m. Eastern, appeared in droves on Ithaca's quad and marched to a campus landmark known as Freedom Rock. At one point, protesters participated in a "die-in" to show their solidarity. 
Protesters on the scene live-tweeted photos using the hashtag #POCatIC:
According to a press release, Ithaca College is aware of acts of alleged racism and "cultural bias" on campus and has taken steps to boost inclusivity on campus. 
"Several incidents this fall have served as fresh and painful reminders of a longstanding problem on Ithaca College's campus surrounding issues of racism and cultural bias," reads the statement from Oct. 29. "Recent events have magnified the feeling among members of Ithaca College's African American, Latino/a, Asian and Native American community that they are invalidated and disrespected." 
"We firmly believe that existing plans to address these challenges must be expedited and new measures undertaken," the Ithaca college administration continued. "Therefore, the college will be putting on hold several projects to focus efforts and resources on actions that will lead to a significant advancement in the campus climate for diversity and inclusion."