Inside the Ohio Law School Controversy Fueling Debate About #BlackLivesMatter and Abortion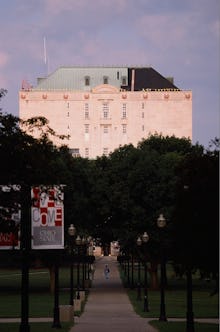 On Tuesday afternoon in Columbus, Ohio, a group of black law school students gathered to discuss what to do about Madison Gesiotto.
The controversy had been brewing for weeks. Gesiotto, 23 — a second-year student at Ohio State University's Moritz College of Law — penned an op-ed Oct. 24 that's been a source of heated debate ever since. 
The piece, which ran in the Washington Times on a Friday, had gained enough momentum on social media to garner the attention of Moritz's student body by the following Monday. The title of the op-ed, "The number one killer of black Americans," was a topical subject, considering the ongoing national conversation around policing and anti-black violence.
Here's how it began:
"You won't believe what the number one killer of black Americans is," Gesiotto wrote. "It isn't heart disease, it isn't cancer, it isn't homicide and it isn't motor vehicle accidents. In fact, the number one killer of black Americans is abortion."
Angelina Vega first saw the post when a friend shared it to Facebook that weekend. 
"I could barely even finish it," Vega, 34, a second-year law student, told Mic. "The implication that black women are the number one killers of black Americans; as an Afro-Latino woman, that alone is infuriating."
She added, "I saw people on Facebook referring to [abortion] as racial genocide. I have a conflict here, because  I recognize [Gesiotto is] entitled to her opinion. But I also feel her opinion is stupid."
Vega is not alone. After a series of internal discussions, the Black Law Students Association — of which Vega is a member, though she spoke only for herself in her interview with Mic — posted a Facebook response to Gesiotto's op-ed on Oct. 30, roundly denouncing the writer's claims.
"This article challenges the principles of professionalism, scholastic integrity, and common sense that we strive to uphold as Moritz law students," the post reads. "By making such sweeping and irresponsible statements regarding black women's reproductive health, the opinion piece fails to address a myriad of factors that may influence a black woman's decision to exercise her reproductive rights."
In spite of the backlash, Gesiotto's op-ed makes the surprisingly common argument that killing black people and terminating pregnancies can somehow be equated. 
The piece cites abortion statistics from 2011 to argue that black Americans not only "die" from abortions at higher rates than any other cause (including heart disease, cancer and homicide) they also terminate pregnancies at higher rates than their white counterparts:
"While black Americans accounted for 36% of all abortions with race statistics in 2011, they only made up under 15% of the population," Gesiotto wrote. "Whereas, white Americans made up about 70% of the population and aborted approximately the same amount of babies, accounting for 37% of all abortions with race statistics in 2011."
As the #BlackLivesMatter protest movement against state violence has gained momentum over this period, many of its detractors — black and white — have used this abortion argument to question its legitimacy.
"When we say that black lives matter, we either have to mean they matter throughout the entire spectrum, or only some of the time," Ryan Bomberger, a black anti-abortion activist, told Mic in August. "We have to believe black lives matter no matter where they are or when they are."
Matthew Finston, 27, a first-year law student at Moritz, takes issue with these claims for another reason.
"It's concerning [Gesiotto] is training to be a lawyer," Finston told Mic, "but ... willingly misrepresents the law to the public." 
She does so, Finston added, "to forward her pro-life agenda using sentiment from the Black Lives Matter movement, while simultaneously calling black women that have abortions homicidal, and therefore undermining very critical life decisions made by women of color regarding their bodies.
"But abortion is not murder," he said, "because under the Constitution, a fetus isn't a person. It is the law."
The U.S. Constitution is one thing — the U.S. Supreme Court case Roe v. Wade (1973) ruled that a fetus does not meet the constitutional requirement for legal personhood — but at the local level, plenty of measures have been implemented in many states that make getting an abortion extremely difficult for women. 
These range from right-wing political pressure to defund Planned Parenthood to strict laws banning abortion after a certain period during the pregnancy and are compounded by a recent SCOTUS ruling that eliminated buffer zones around clinics — functionally allowing protesters to coerce, shout at and harangue women on their way inside and out.
Such restrictions disproportionately impact poor women and women of color, who often lack access to private facilities that provide reproductive health services.
Not to mention the topic of black death is especially potent in Ohio, considering the events of the past year-and-a-half. 
On Aug. 5, 2014 — four days before Michael Brown was shot and killed by a police officer in Ferguson, Missouri — a 22-year-old named John Crawford III was killed by police at a Beaver Creek, Ohio, Wal-Mart location while holding a toy rifle in the store.
Tamir Rice, 12, was killed by police Nov. 22, 2014, in a Cleveland park while playing with a toy handgun. No officer has been charged with a crime in either killing.
More recently, Samuel Dubose, 43, was killed by a University of Cincinnati police officer in July, in an incident caught on bodycam video that led to the officer's firing and arrest. All have fueled a nationwide protest movement that has, in turn, prompted heated debate around the value of black lives in America.
At Ohio State University, the op-ed has people talking. 
While students recognize and respect Gesiotto's Constitutional right to free speech, many also have difficultly stomaching her claim that — at a time when black people are more than twice as likely to be killed by the police as white people — the biggest threat to black people are black women having abortions. 
Since Tuesday, the BLSA has been formulating a plan of action for improving the environment for people of color at the Moritz School of Law, and plans to meet with a number of other groups who have also met around this topic, according to Vega and Finston.
"I think this is gaining momentum because its a conversation that needs to happen," Vega told Mic. "Particularly for people of color, who have been historically disenfranchised as students. This was a catalyst. 
"But what i feel frustrated about," she added, "I'm afraid the only people who will enter this conversation are the people who already really care. The people who need to be there most won't be there. It's really self-selective."
Gesiotto did not respond to Mic's request for comment.
Correction: Nov. 12, 2015. An earlier version of this article misidentified Madison Gesiotto as a first-year law student. She is a second-year law student.