These Are the Stores that Will Mercifully Be Closed on Thanksgiving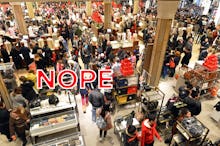 Thanksgiving is all about stuffing yourself and toasting with family and friends. So why take that cherished American tradition away from thousands of retail workers and instead subject them to the following madness: 
That's the rationale behind a number of retailers proudly proclaiming their intentions to close this Thanksgiving, H&M being the latest noteworthy store to announce no Thursday shopping.
It's a notable shift in strategy, as over the past few years, Black Friday has basically overtaken Thanksgiving. "At first, some stores opened at the crack of dawn, then it crept up to midnight, and finally stores started opening on Thanksgiving evening to lure diehard deal hunters after dinner," Bourree Lam wrote at the Atlantic.
Companies like Target, Best Buy and Macy's have started launching their holiday sales on Thursday in the hopes of tapping into eager buyers — which, critics say, is a sign of holiday shopping eroding the spirit of the actual holidays.
Good sales don't just rely on plenty of customers — they require workers clocking in, a fact that's prompted plenty of backlash against Thanksgiving Day shopping in the United States and even overseas, where Thanksgiving-related sales have also cropped up.
So now, stores are scaling back in what's become a philosophical statement against American consumerism. When the sporting goods retailer REI announced last month it was opting out of the shopping frenzy (on both Thursday and Friday), the company's president declared, "Our definition of success goes beyond money. ... We think that Black Friday has gotten out of hand."
Here are some of the stores that are keeping their workers home on Thanksgiving — aka the ones you can feel really good about buying from at 6 a.m. the next day after you've enjoyed your turkey.
Uniqlo
Zara
Costco
"Costco warehouses will not be open on Thanksgiving," a spokesperson for Costco told Mic via email. "Our employees work especially hard during the holiday season and we simply believe that they deserve the opportunity to spend Thanksgiving with their families."
Urban Outfitters
Half Price Books
"Half Price Books will be closed Thanksgiving Day so our employees can spend time with their families and friends on the holiday,"  Kathy Doyle Thomas, chief strategy officer for Half Price Books, said in a statement sent to Mic. "Since so many retailers open late on Thanksgiving or very early in the morning, we decided to open at the more reasonable time of 9 a.m. on Black Friday to be more accommodating of shoppers either wrapping up their shopping for the day or those who are just getting started."
Sephora
Patagonia
Talbot's
At Home
"Asking our teams to work on this family-centric holiday fell outside our company's core cultural beliefs, so the decision to close on Thanksgiving was an easy one for our leadership team to make," a spokesperson for At Home, told Mic via email.
DSW
Neiman Marcus
IKEA
GameStop
"We believe strongly that our customers and associates should have the opportunity to spend the Thanksgiving holiday relaxing with family and friends, and not worrying with the stress of where to find the best shopping deals," said Mike Buskey, executive vice president and president of GameStop's U.S. stores in a statement sent to Mic. "We know this is in stark contrast to what many other retailers are doing, but we are taking a stance to protect family time during this important holiday."
TJ Maxx & Marshalls
H&M
"In the tradition of Thanksgiving, H&M will close our U.S. stores on Thanksgiving day, allowing our store teams to enjoy this time with their families and friends," Daniel Kulle, president of H&M's North American operations, said in a press statement.
Nordstrom 
Nordstrom Rack
Lululemon
Burlington Coat Factory
"Once again, Burlington is pleased to announce that all of its store locations will remain closed on Thanksgiving so that associates and customers can spend this special holiday with their friends and family," the company said in a statement sent to Mic.
Bloomingdale's
BJ's
"To give our team a well-deserved holiday, our home office, 211 clubs and three distribution centers will be closed on Thanksgiving Day, allowing our 25,000 dedicated Team Members the time they deserve to celebrate all that they are grateful for with family and friends," Laura Sen, CEO of BJ's Wholesale Club, said in a statement sent to Mic.
Oh, and here are stores that will have locations (though not necessarily every store) open on Thanksgiving Day, turkey dinner and football be damned:
J. Crew opens as early as 8 a.m.
Forever 21 opens at 9 a.m.
JC Penney opens at 3 p.m.
Old Navy opens at 4 p.m.
Best Buy opens at 5 p.m.
Kohl's opens at 6 p.m.
Macy's opens at 6 p.m.
Target opens at 6 p.m.
Nov. 24, 2015: This post has been updated.