"Everything in Moderation" Rule May Have Negative Affects on Your Health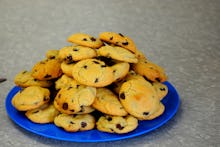 The "enjoy bad food in moderation" theory that has long qualified as an excuse to eat all kinds of junk in small portions may be worse for people than previously thought. A recent study showed living by the moderation rule could actually cause weight gain and a decline in metabolic health, among other things. 
The latest study, published Oct. 30 and conducted by researchers at the University of Texas Health Science Center at Houston, found that greater diet diversity, often associated with eating less healthy foods, can lead to an astounding 120% higher weight gain compared to a diet consisting of a smaller range of healthy foods. "Greater dissimilarity among foods was actually associated with gain in waist circumference," researchers wrote in the study. "These results do not support the notion that 'eating everything in moderation' leads to greater diet quality or better metabolic health."
The method: The goal of the study was to find the relationship between diet diversity and health, including abdominal obesity and Type 2 diabetes. The researchers observed the diets of some 6,814 adults between the ages 45 and 84, over the course of 10 years, according to a statement from researchers. The observation focused on the number of different foods, the proportion of different foods and the dissimilarity of foods in each participant's diet. 
After five years, researchers measured increase in weight circumference and compared it with the subjects' diet diversity. After 10 years, the researchers recorded which subjects experienced an onset of Type 2 diabetes. 
What they found: While the study didn't find evidence that the number of different foods or the proportion of different foods had a positive relationship with weight gain or Type 2 diabetes, results found that participants who had diets with the most dissimilar foods experienced an average of 120% more weight gain than those who ate a smaller amount of healthy foods. The study highlights that those with more dissimilar diets were also eating more unhealthy foods including sweetened beverages and processed meats.