Tennessee School System Bans All Religious Material on Campuses Over Gideon Bibles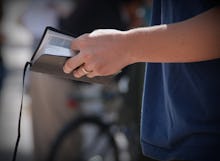 In a move to further define the separation of church and state, Bledsoe County school system in Tennessee has banned the distribution of all religious materials on its campuses after a recent complaint about a religious group handing out copies of the Bible. 
"The distribution of religious materials in a public school is in violation of constitutional provisions and well established federal and state laws and precedence," Bledsoe County Director of Schools Jennifer Terry told WRCB on Monday. A local chapter of Gideons International, a national Evangelical organization, has been handing out copes of the Bible at Bledsoe schools for years, until a formal complaint led Terry to prohibit the distribution of all religious materials, she told WRCB. 
The Bible was being offered to fifth grade students, but Gideon chaplain Charlie Queen said it was completely voluntary. "We simply go in, we lay it on the table, we tell them what it is and who we are and if they want one ... they freely take one," Queen told WRCB. 
An ongoing trend: After the September teaching of the five Islamic pillars in a public Tennessee middle school sparked outrage from some parents, state Rep. Sheila Butt proposed a bill that would ban the teaching of religious doctrine in public Tennessee elementary and middle schools. However, the Council on American Islamic Relations said it was an Islamophobic initiative. 
"Islamophobes like Rep. Butt fail to recognize that there is a big difference between teaching students about religion as an important part of world history and promoting particular religious beliefs," Robert McCaw, CAIR's government affairs manager, said in a statement. "The education of children in Tennessee should not be delayed because of anti-Muslim bigotry."