Marijuana Legalization South Carolina: Could State Legalize Medical Pot?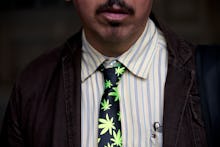 South Carolina could be among the next states to legalize medical marijuana in the coming year after a state Senate subcommittee passed an initial bill on Sept. 24 allowing qualified patients to possess limited amounts of the drug. The bill will again go before South Carolina's Senate Medical Affairs Committee before being sent off for a vote by the state House of Representatives and the state Senate during their next session, Fox Carolina reported Tuesday. 
"It should not be illegal in South Carolina for a doctor to prescribe medicine to a patient that's going to help that patient," Democratic South Carolina Sen. Brad Hutto, the bill's co-sponsor, said in September, according to WSPA. 
"If a doctor, with all his or her training, believes something can be of therapeutic benefit, why in the world would we as politicians, for reasons that are nonmedical, step in and say no?" Republican South Carolina Sen. Tom Davis, the bill's other sponsor, said, according to WSPA. 
Currently, a South Carolina law passed in 2014 allows select patients with severe epilepsy to use a marijuana derivative for treatment. 
Under the new legislation, the state would loosen restrictions on purchasing medical marijuana, allowing a slew of new customers to buy the drug from licensed dispensaries. The law would also allow for an unlimited amount of THC, the ingredient in cannabis that can provide relief from certain medical symptoms (as well as psychoactive side effects).
While the bill is bipartisan legislation sponsored across both parties, not all politicians are jumping on the green bandwagon. "I don't know of any other proposed legislation that I've been aware of, and certainly not since I was director of the Department of Public Safety and more involved with the legislature or since I've been the chief of [South Carolina Law Enforcement Division], that I think has the opportunity to negatively impact the state that we live in than this piece of legislation," Chief Mark Keel told lawmakers in the September subcommittee meeting, WSPA reports. 
Twenty-three states and Washington, D.C., have legalized medical marijuana. Four states and Washington, D.C., have also legalized recreational marijuana. Here's where recreational pot could be legal next, according to the experts: 
Some experts predict the next 11 states to legalize recreational marijuana could include Massachusetts, Nevada, California, New York, Vermont, Minnesota, Connecticut, Maryland, Rhode Island, Maine and Delaware. 
If South Carolinians were to embrace legal medical marijuana, it's too soon to say whether they would be ready to make the full leap into recreational legalization. "A lot of people think it's about sitting on a sofa, smoking a bong and eating Doritos because that's what you did when you were in college," South Carolinian Emily McSherry, who has a genetic blood disorder that causes seizures, told Fox Carolina. "No, that's not what we're looking for; we're looking to be able to make it through the end of the day and say 'I didn't have a seizure, I didn't have pain, I was a good parent. This is my life."
Correction: Nov. 11, 2015