Chick-fil-A's Secret Menu: Here Are the Best Known Items and How to Order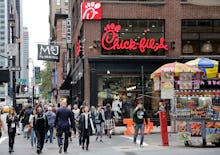 When Chick-fil-A set up shop in New York City in October, people waited in line an hour to get their hands on its iconic chicken sandwich. What those suckers may not have known was that there's more to the popular restaurant chain than its everyday sandwiches, waffle fries and vanilla milkshakes. Chick-fil-A has a secret menu, featuring some seriously gluttonous options including a blueberry cheesecake shake and chicken quesadilla. 
The several off-the-menu options at Chick-fil-A include game-changing modifications to both sweet and savory Chick-fil-A classics and are mostly available at limited locations.
These are the known Chick-fil-A secret menu items:
Blueberry cheesecake milkshake: It sounds too good to be true, but this milkshake flavor exists at limited Chick-fil-A locations. To try your luck, simply order a vanilla milkshake blended with a slice of blueberry cheesecake. Those who inquire about calories are not worthy of this holy creation. 
Buffalo chicken sandwich: This modification is simple but effective — just ask for buffalo sauce on a spicy chicken sandwich. The hybrid sandwich is super spicy, suitable for spice veterans, Secret Menus reports. This Chick-fil-A employee tweeted his in a humble brag. 
Chicken quesadilla: For this secret menu item, Chick-fil-A combines its char-broiled chicken a cheesy goodness, pressed in a flour tortilla. This item is available mostly at southwest locations, Hack the Menu reports, but it's worth a shot at any local establishment. 
One Twitter user recently teased theirs:
Root Beer float: One of Chick-fil-A's more accessible menu items, the root beer float is simple vanilla soft serve combined with root beer soda. Any location that serves both soft serve and root beer should offer this decadent option, Hack the Menu reports. 
Free IceDream: Who needs a free plastic toy when there's free soft-serve ice cream? All locations of Chick-fil-A will gladly offer a a complementary soft-serve vanilla ice cream cone instead of a toy when ordering from the kid's menu, Hack the Menu reports.
Spicy char: This one's for spice fiends. Simply ask to swap out a charbroiled chicken patty for a spicy chicken patty, and voila.