Apple Under Fire for Racial Incident in Australian Apple Store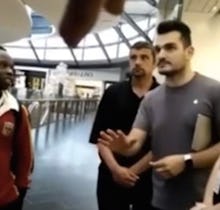 Apple CEO Tim Cook sent out a company wide email obtained by Buzzfeed News after a black Australian teenager named Francis Ose posted a video online Tuesday of his experience at an Apple store in Melbourne, Australia that many are calling racial profiling. The video shows Ose and a group of six friends being kicked out by store employees who said they were "just a bit worried about [the teenagers'] presence," leading many social media users to say the teens were targeted because they were black. 
"Our stores and our hearts are open to people from all walks of life, regardless of race or religion, gender or sexual orientation, age, disability, income, language or point of view," Cook wrote in the email, according to Buzzfeed News. In the video, the boys are standing outside the store, asking the Apple employees why they were the only people being asked to leave. "There's no reason for this," one of the teenagers says from behind the camera. "Why would we steal something?" asks another. 
After the employee continues to insist the teenagers leave the store, several of them ask "for what reason?" 
"Guys, you can't, it's okay," says one of the apparent Apple employees. "These guys are just a bit worried about your presence in our store. They're just worried, they're just worried you might steal something. It's okay." The employee then says something inaudibly, followed by, "Guys, guys, end of discussion. End of discussion, I need to ask you to leave our store."
The video has gone viral and has been viewed over 80,000 on Ose's personal Facebook page, as well as duplicated and shared across a number of other platforms. 
"Simply racism," Ose wrote. "Made them apologize tho." 
"He was circling us for 10 minutes while we were in the store," one of Ose's friends commented underneath the video, apparently talking about the man who allegedly kicked them out of the Apple store. 
Since the video hit the Internet, the teenagers were accompanied by their Maribyrnong College principal back to the Apple store Wednesday afternoon, where they received a formal apology from a senior manager, the Sydney Morning Herald reported. Another teenager involved in the altercation later wrote on Facebook, "They apologized, so we're chilling, no need to take it further," according to the Daily Record.
However, the apology hasn't stopped viewers of the video from sharing their anger over the incident across social media. "Racial profiling in Apple stores, is there an app for that?" one user tweeted Wednesday. Another tagged Apple CEO Tim Cook in a post, writing, "Shame on Apple store in Australia not allowing six youths into their store based on 'appearance.'"
Nov. 13, 2015, 2:50 p.m. Eastern: This story has been updated to include a statement from Apple CEO Tim Cook.