The 15 Hottest Names on This Dating App Happen to Sound Very White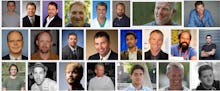 People aren't just swiping right on every Tom, Dick and Harry they see — but they are swiping for Brett, Tyler or Corey. Tinder-like dating app The Grade crunched the data on which names their users tend to swipe right on, Business Insider reports. The Grade advertises itself as an app that monitors "creeps" by "expelling" people who don't keep a high dating grade. The names were ranked not according to number of swipes but percentages of swipes each name received. 
Here are the 15 hottest names for women and men, respectively, according to Business Insider: 
Women:
1. Brianna
2. Erika
3. Lexi
4. Brooke
5. Vanessa
6. April 
7. Natalie
8. Jenna
9. Molly
10. Katie 
11. Laura 
12. Rebecca
13. Lindsey
14. Taylor
15. Aly
Men: 
1. Brett
2. Tyler
3. Corey
4. Andy
5. Noah
6. Shane
7. Jeffrey
8. Rob 
9. Frank
10. Jeff
11. Zack
12. Brandon
13. Nicholas
14. Greg
15. Zachary 
Do the names seem to have a certain uniformity to them? 
People with "white-sounding" names enjoy benefits that are well-documented, whether it be in the classroom, the housing market or a job interview. 
If white people's résumés are better received, then the same may be true of white people's dating résumés. 
When The Grade's list is cross-referenced with Freakonomics authors Stephen J. Dubner and Steven Levitt's list of the 20 most common white baby names for males or females, three of the names — Jenna, Molly and Katie — appear on both lists. However, at least five variations of Katie exist on the list of the 20 most common names for white babies: Katie, Kaitlyn, Caitlin, Katelyn and Kaitlin. As for the guys, only one name, Brett, appears on both lists. 
Why else might these names be so heavily swiped? Are they the most popular baby names from two decades ago? 
While there is only a slight correlation between most popular white names and most popular Grade names, do any names from the list of the most popular black names intersect? Not one; the same goes for popular Latino baby names from 2011 shut out of The Grade's list.
What about anecdotal evidence? Mic performed a Google image search of the top five names from each list to see if these name were as white in digital terms as they seemed. 
Brett, the most popular name, returned only white faces in the top results.  
Tyler showed a little more diversity. Aside from a bizarre number of Steven Tyler pictures, it also returned several pictures of rapper Tyler, the Creator, and Tyler Perry. Corey, likewise, while all white, also returned a lot of pictures of the two 1980s Coreys: Corey Feldman and Corey Haim. 
Andy returned some famous people — Cohen, Sandberg and Kaufman — but also, many white faces. 
All the results for Noah either returned basketball player Joakim Noah or the poster for Darren Aronofsky's biblical epic. 
And the women? Results for Brianna were homogeneous — and white. 
Erika had a similar dominant theme. 
And Lexi makes three. 
Brooke's results were similarly white-centric, while a Vanessa search returned mostly pictures of actresses Vanessa Hudgens and Vanessa Williams, with a few pictures of Vanessa Carlton, as well. 
The more obvious problem: The Grade is not the only dating app tinged with racism. In 2013, a study found OkCupid users rarely speak across racial lines. And dating remains a minefield for people of color, whether straight or gay. 
Aside from this one set of data from one dating app, interracial dating is actually on the rise. However, not everyone is feeling the benefits. As seen in the popular names above, black Americans are still dealing with acceptance problem when it comes to interracial dating. 
Sociologist Jennifer Lee, author of The Diversity Paradox, told Mic last year Asians and Latinos are more likely to be accepted into interracial relationships than black people. "Racial boundaries are fading more rapidly for today's new immigrant groups than for black Americans," Lee told Mic.
"Increased intermarriage and interracial dating indicate that the racial boundaries that have long separated groups are slowly beginning to fade," she said.