Woodward Wildfires 2015: Latest Updates and Images From Wildfires in Oklahoma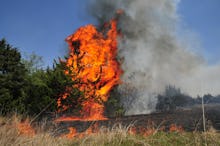 Powerful winds in Oklahoma that began to gain speed on Wednesday caused massive wildfires to spread across multiple counties in the state. Firefighters faced maximum wind gusts of up to 60 mph, according to Oklahoma news outlet KOTV 6 Tulsa, as emergency responders struggled to keep the flames from spreading across the grassy flatlands. 
Fires raged in a number of Oklahoma counties, including Washington, Creek and Mayes, as highways were closed toward the North West near the panhandle, KOTV 6 Tulsa reported. Early Wednesday evening, one witness told KFOR-TV that, at one point, wildfires in Nowata County spanned a length of seven to eight miles. 
Through sunset, strong winds helped the flames to spread across the state. 
According to the Associated Press, Oklahoma, Lincoln and Pottawatomie counties also battled raging fires into the night on Wednesday. The American Red Cross was on the ground in Nowata Country helping with relief efforts, according to the AP, as downed power lines caused about 1,800 outages by 7 p.m. Central in the region.
Some towns like Tulsa requested evacuations, while authorities in other counties, such as the Oklahoma City Fire Department, called on residents to help curb the spread of sparks. 
Before the worst of the wildfires in Oklahoma were through, emergency responders worked to extinguish full homes that were engulfed in flames in northeast Oklahoma. Yet as of late Wednesday, winds began to weaken, which helped firefighters to stop the fire from spreading and contain the damage. 
By 10 p.m. Central on Wednesday night, KOTV 6 Tulsa chief meteorologist Travis Meyer said winds had lessened to an average of 20 mph. AP reported that no one was injured in the widespread fires. 
Here's raw footage of the wildfires from above: