15 #BlackOnCampus Tweets Describe Why College Racism Is a Nationwide Issue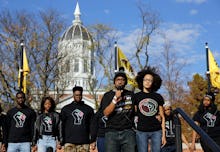 Shortly after the ouster of ex-University of Missouri system president Tim Wolfe on Monday, the celebratory mood at Mizzou turned sour.
As students basked in their victory — the result of a week-long hunger strike by graduate student Jonathan Butler and protests against racism and other disparities at the University of Missouri-Columbia campus — tense interactions with members of the media segued into anonymous death threats against black students, prompting arrests, more calls for resignations and a wider debate around the challenges of marginalization at America's predominantly white colleges and universities.
Observers on social media took notice. By Wednesday, the hashtag #BlackOnCampus was trending on Twitter and Facebook, collecting posts from across the U.S. detailing the often harried experiences of black students in higher education. 
The posts touch on issues ranging from the lack of black faculty at many colleges to everyday hostilities directed at black students by their white peers and administrators. Here are 15 #BlackOnCampus tweets that capture these disparities in full, and the sense of isolation that frequently accompanies them.
As the eyes of America remain fixed on Mizzou, colleges across the country are becoming more embroiled in racial equity debates of their own. 
Hundreds of students marched through the Ithaca College campus in Ithaca, New York, on Wednesday, calling for the removal of school president Tom Rochon and for an environment more responsive to the needs of students of color. The demonstration was sparked by a series of racially charged incidents on campus, including one where two white alumni reportedly referred to a black alumna as a "savage" at a school event, according to the Ithaca Journal.
Scores of Smith College students marched in solidarity with Mizzou and Ithaca protesters in Northampton, Massachusetts, on Wednesday as well, while pressure from students at Claremont McKenna College in Claremont, California, prompted the school's junior class president to resign amid controversy over a photo she took posing with two white women wearing sombreros and fake mustaches, garb deemed culturally insensitive, the New York Times reports.
Yale University students have been organizing and protesting for weeks now, prompted by a long-running series of racially charged incidents including the alleged denied entry of a group of women of color from a Halloween fraternity party Oct. 30. Yale has also been in unrest after the Intercultural Affairs Committee issued an email discouraging students from wearing Halloween costumes that may be culturally insensitive, Mic reported this week. 
The renewed vigor with which these issues are being addressed on campuses has prompted debate among critics, many suggesting students are being oversensitive and overly censoring in their assessment of on-campus hostility. Others argue this reasoning is a deflection of the legitimate concerns these students have and the disparities they face.