Victoria's Secret Model Calls Out Fashion's Problem With Dark-Skinned Women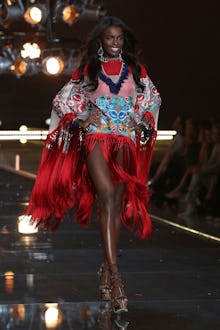 Leomie Anderson is a 22-year-old model from the United Kingdom who starred in the reality TV show The Model Agency. On Tuesday, she took a big leap forward when she strutted her stuff in the Victoria's Secret Fashion Show.
It was a notable moment and one she was thankful for, she said in a new interview. It's also not one that she and other models like her can take for granted.
Dark-skinned models continue to be underrepresented in fashion, Anderson told the BBC. 
"I definitely feel that there has been a lot of improvement in the industry with [the] use of black models, but I would definitely say that it has a long way to go especially with regards to shade," she told the BBC. The big issue: "Lighter skinned girls get more work than darker skinned girls." 
That subtle discrimination is more acute in certain cities, like Milan and Paris, she said, an observation that's been echoed by casting directors.
"Milan's still very behind when it comes to using a lot more diversity in their shows," Anderson told the BBC. "Sometimes they say stuff like, 'Oh, you know, we're not using any Africans in our shows this season', and I'm like, 'Eh? What do you mean?'"
Anderson said that she has never had problems getting cast in New York or London, but the fact remains that the number of women of color in fashion remains small. Of the 44 models who walked the VS runway this year, only eight were black, Anderson being one of them.
Anderson's comments touch on the issue of colorism, which is especially clear in fashion. When models of color are cast, they can sometimes fall on the lighter-skinned side of the spectrum.
That doesn't discredit the progress that has been made on the "diversity" front. This year marked the first time a black Victoria's Secret model walked the runway with her natural hair; elsewhere in fashion, designers like Chromat cast models with a variety of body shapes, skin tones and features for New York Fashion Week.
But the issue remains that diversity is often treated as a simple box to check off with a "choose a black model, any black model" mentality, without regard to diversity's true value in fashion: setting an inclusive standard with all kinds of beauty represented, including skin tones of all shades.
Anderson's success with Victoria's Secret is undoubtedly one step towards getting there, and she's more than happy to be part of the change. On her Instagram, Anderson posted a pic of herself with fellow black Victoria's Secret models, with the caption, "Look at that glow though" — with a chocolate emoji.