Missy Elliott Dropped Her First Single in 3 Years: "WTF (Where They From)" Feat. Pharrell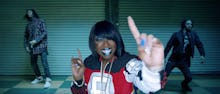 For one day, all is right in music. Missy Elliott is back. 
It's been three years since the last single from the superstar rapper, producer and first black female entertainment mogul, Missy "Misdemeanor" Elliott. She broke that dry spell Thursday, dropping the "WTF (Where They From)" featuring Pharrell Williams, a high-energy dance track that boasts an almost hard rock edge at times. It comes with a characteristically loud, colorful video. 
It shows Elliott switching through a series of futuristic outfits, one where's she's glowing like a living disco ball.
She nails a quick change, backed up by some excellent breakers.
Williams appears as a puppet to boast for a verse: "Lyrically, I'm like Optimus Prime."
Elliott's still-cutting-edge funk and dexterous wordplay drives it all forward at a breakneck pace.
The world has missed Elliott. When she stepped out onstage during the Super Bowl halftime show earlier this year, the Internet erupted in applause. The next morning, Twitter was mired with young people asking who she even was and publications celebrating her for stealing the show from Katy Perry. The person most surprised by the huge outpouring of love was Elliott herself.
Hopefully, the single is the first sign of a new album on the way. Her last announced project, Block Party, spawned singles "Best Best" and "Shake Your Pom Pom" in 2008 and "Triple Threat" and "9th Inning" in 2012, but it never materialized. However, it feels like there's more urgency and confidence in her music this time around. We may hear that new full-length record yet.
Watch the full video below.
Get the news everyone's talking about delivered straight to your inbox every morning by signing up for MicCheck Daily.
Correction: Nov. 12, 2015