Michael Wright, Former Knicks Draft Pick, Found Dead in SUV in Brooklyn, New York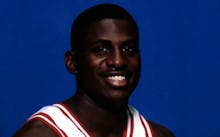 New Jersey resident Michael Wright, a former NBA draft pick for the New York Knicks, was found dead Tuesday in Brooklyn, New York, after being reported missing in his hometown on Nov. 5. ESPN reports the death has been ruled a homicide; authorities found the 35-year-old with a head wound and covered in trash bags in the back seat of his Lexus SUV.
"We are in disbelief," Wright's cousin, Randolph Berry, told the New York Daily News. "They're telling us it's foul play. His mom is on her way to New York now." 
Police found Wright's car parked in southern Brooklyn by using a vehicle equipped with a license scanner after it was reported missing for five days, the New York Daily News reported. Wright, who was the star of the Arizona University Wildcats Division I basketball team and was drafted by the Knicks in the second round in 2001, had been playing on international teams in France and Turkey, among other countries. Wright was a "gentle giant," Berry told New York Daily News. "He was a good person."
According to the New York Daily News, police are looking into whether Wright's murder happened after he met with someone from a dating app. The New York Police Department declined to comment by phone. 
Teammates and other basketball players shared their memories of Wright across social media.