In One Quote, Jennifer Lawrence Sums Up Why She'll Never Be a Republican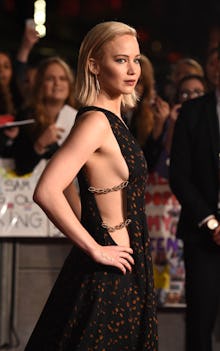 In a new Vogue feature, Academy Award-winning actress Jennifer Lawrence described the reason behind her political affiliation, including why she doesn't support the Republican Party. And the Hunger Games star's logic is simple. 
"I was raised a Republican, but I just can't imagine supporting a party that doesn't support women's basic rights," Lawrence told Vogue. Many of the Republican presidential hopefuls have identified as pro-life. Some have advocated for defunding Planned Parenthood, which offers reproductive health services to women.
"It's 2015 and gay people can get married and we think that we've come so far, so, yay! But have we? I don't want to stay quiet about that stuff," Lawrence told Vogue. 
One of the occasions on which Van Meter met with Lawrence happened to coincide with the day Kim Davis was released from jail, on Sept. 8. The notorious Kentucky country clerk was detained after she refused to administer marriage licenses to same-sex couples despite the Supreme Court's June vote that ultimately legalized same-sex marriage across the United States. 
Lawrence said Davis was a "lady who makes me embarrassed to be from Kentucky." 
"Don't even say her name in this house, all those people holding their crucifixes, which may as well be pitchforks, thinking they're fighting the good fight," Lawrence told Vogue. "I grew up in Kentucky. I know how they are."
As for her career, Lawrence is gearing up for the the release of the next installment of the Hunger Games series, The Hunger Games: Mockingjay, Part 2. The film, which was directed by director and producer Francis Lawrence (no relation), boasts an all-star cast of actors, among them Josh Hutcherson, Liam Hemsworth, Woody Harrelson, Elizabeth Banks, Julianne Moore and Philip Seymour Hoffman. 
The film will be released in theaters nationwide on Nov. 20 and tickets can be found here. In the lead-up to the next battle to the death, here's the preview for The Hunger Games: Mockingjay, Part 2.
Get the news everyone's talking about delivered straight to your inbox every morning by signing up for MicCheck Daily.
Correction: Nov. 12, 2015