Nevada Marijuana Legalization 2016: Latest on Initiative to Legalize Pot Next Year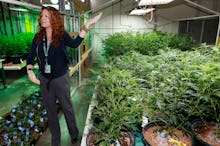 Nevada, home of the casino kingdom that is Las Vegas, could join the growing list of states legalizing recreational marijuana when the state on Election Day 2016 votes on an initiative that would legalize and regulate recreational pot in the state.
"Nevada has always been an expert in creating businesses that were difficult in creating business models for," Robert Calkin, CEO of Cannibus Career Institute, told KTNV Wednesday. The initiative, the Regulation and Taxation of Marijuana Act, has already earned a spot on the November 2016 state ballot and would legalize the recreational use of marijuana for people 21 or older in a state where medical marijuana is already legal.
The initiative would tax and regulate cannabis like it does alcohol. "The people of the state of Nevada declare that the cultivation and sale of marijuana should be taken from the domain of criminals and be regulated under a controlled system, where businesses will be taxed and the revenue will be dedicated to public education and to the enforcement of regulations in this act," it says in initiative's preamble. 
How Nevada's marijuana initiative would work: Any business with a special license from Nevada's government would be allowed to sell tested and labeled marijuana to consumers, as stated in the initiative. 
Those under 21 are prohibited from purchasing or using the drug and possession within school grounds would also be illegal. Those 21 are older would be permitted to possess, use and transport 1 ounce of less of marijuana. 
Review the Regulation and Taxation of Marijuana Act in its entirety here. 
According to marijuana advocates, the next 11 states to legalize recreational marijuana could include Massachusetts, Nevada, California, New York, Vermont, Minnesota, Connecticut, Maryland, Rhode Island, Maine and Delaware. 
Ohio, the most recent state to vote on legalizing recreational marijuana, shot it down on Nov. 4. Opponents of the ballot measure, Issue 3, feared that it would create a oligopoly by granting exclusive marijuana cultivation rights to 10 sites throughout the state. Another initiative, spearheaded by pro-legalization group Legalize Ohio 2016, proposes a more open market for marijuana and is currently working on getting it approved for the state's 2016 ballot.